#1 Robbins Park
Robbins Park is located on 17738 W Catawba Ave, Cornelius, NC 28031. It is a wonderful natural construction with interactive wooded animal creatures curved on the wooded part of the structure for kids to look for as they play around.
The Park is extremely clean and very well maintained with bathroom facilities located near the playground right by the picnic benches area for convenience. There are multiple slides one of which is a tube slide made to look as if you are sliding inside a wooden log, as well as rope that kids can climb on while trying to make their way to the "boulder" on the other end of it. Several climbing stairs are located in the center of the structure to imitate a tunnel littles can climb on.
Four little toadstool picnic tables are located within the playground area where kids can pretend play or sit and have a snack and lunch. The Playground is not huge but extremely interactive and entertaining. It is shaded most of the year which makes it the perfect spot to bringing the kids on warm summer days. The sign located next to the playground says that it is designated for kids ages 5-12, but we've been here with our 3 and 4 year olds and they have never had issues playing on any of the structures. As long as you supervise them closely and make sure they are safe they shouldn't have any problem enjoying this playground.
The Park is wheelchair and stroller accessible and is open daily from 7AM to 8PM. There is a paved walkway that starts at the bathroom facilities and goes all the way around the greens with different kinds of art along the way kids can look at. Here you can find a gagaball pit if your kids are interested in playing. Just make sure to bring your own ball as there is not one available for use. A little down the road there is a pond with wooden pier walkway where you can take a stroll and fish if you like doing that as well as walking trails, disk golf, volleyball and tennis courts. The town of Cornelius often has events at Robbins Park and you can check there page here to find more information on upcoming happenings.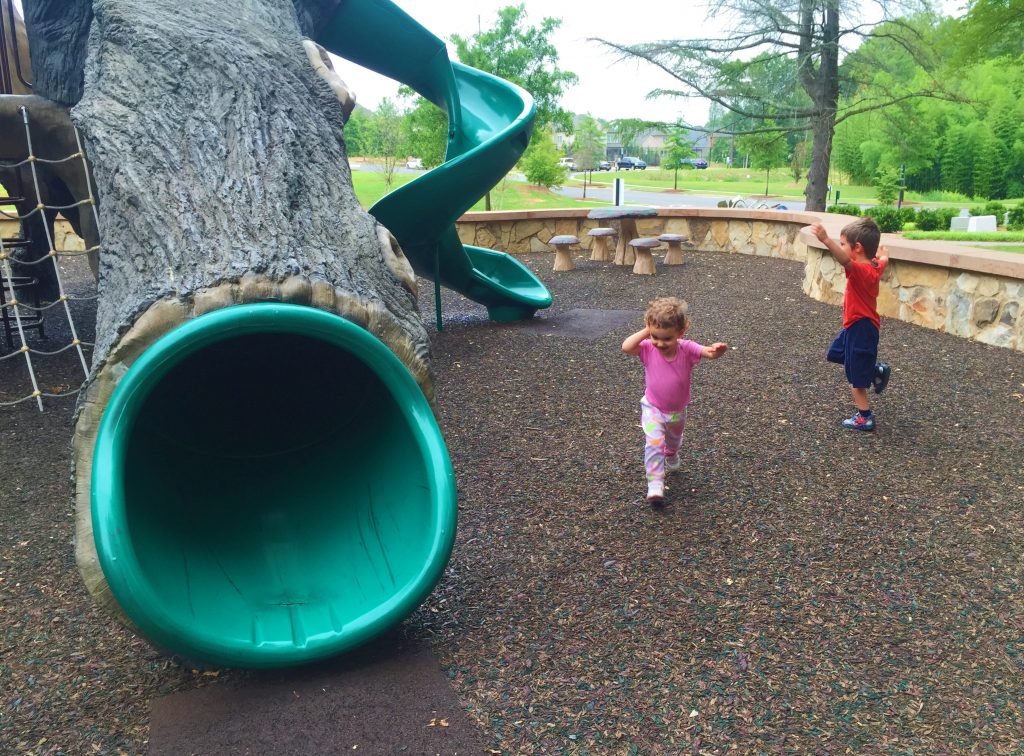 #2 Jetton Park, Cornelius
Jetton Park is located on 19000 Jetton Rd, Cornelius, NC 28031 and is open daily from 7.30AM to 9PM. This tree-covered 104-acre park on Lake Norman is our favorite spot to spend a morning or an afternoon.
It has walking trails that wave between the lush greenery and by the lake and is equipped with a playground, tennis courts and a small beach. Swimming is not permitted here however you can swim at the designated beach at Ramsey Creek located near by that is open Memorial Day weekend- Labor Day Weekend.
The park has multiple bathroom facilities and picnic shelters. Jetton Park offers a site for your rehearsal dinner or wedding reception with beautiful gazebos hugged between large lush trees and overlooking Lake Norman.
The playground has several different structures for kids to pick from and is designated for ages 5-12. The walking trails are paved and very well maintained and great for scooter riding, strollers and dog walking (dogs on leash only). Kids can wade in the water and play on the sand by the beach. We have often encountered ducks swimming near the shore of the lake that are extremely comfortable with people and come pretty close to the littles which makes for great entertaining especially if you have few breadcrumbs left over from the picnic you might've taken by the lake.  Jetton Park is popular spot for family picture taking with multiple beautiful spots depending on the season and what kind of pictures you are wanting to get.
Multiple benches are located by the side of the lake for a break between your walk or to just sit and enjoy the stunning surroundings. It is a wonderful spot to just rest and relax with a good book while the kids keep busy building sand castles by the lake.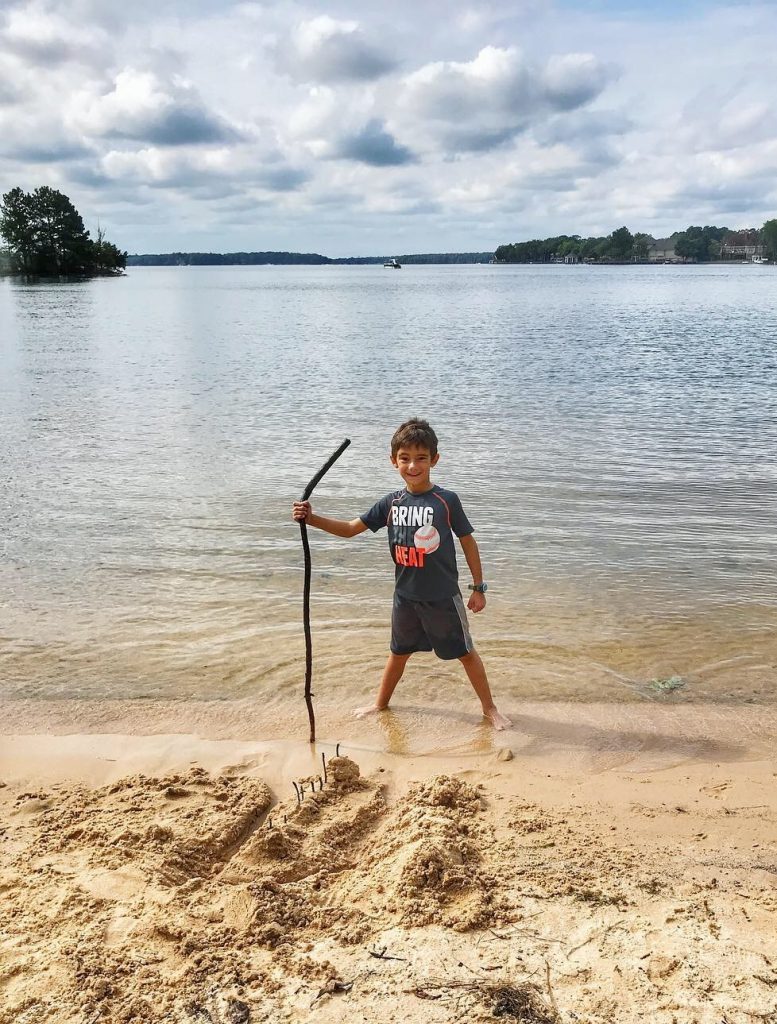 #3 Holbrook Park, Huntersville NC
Holbrook Park is located on 100 Sherwood Dr, Huntersville, NC 28078 across from Huntersville Elementary and Discovery Kids. The Park is open daily from 8AM to 10 PM.
Although the park is not very big our little ones absolutely love it.  There are two playground equipment sets, one for older and one for younger kids, with multiple slides and climbing walls. There are picnic benches right by the structures where you can sit ans relax while watching the kids play, a swing-set with swings for babies and older kids, tennis courts and several benches around the playground area for parents convenience.
The parking area is located right by the playground and is not to big so make sure to come here early especially on a nice day so you get a spot. Bathroom facilities are located near by and are always very well maintained and clean. The playground is shaded year round and perfect for play on warm and sunny days.
A little wooded trail goes by the playground where kids can explore with parent supervision, collect sticks and pine cones and if lucky encounter a wildlife such as squirrels, chipmunks and bunnies.
A picnic gazebos are located near the playground structure and available for rent for birthday parties through the town of Huntersville. Holbrook Park is the location that the town had chosen for the Annual Easter Event they hold where littles can come and meet the Easter Bunny, get a face paint, jump on bouncy houses and take a part of the Easter Egg Hunt. It is always a great success and our kids look forward it every year.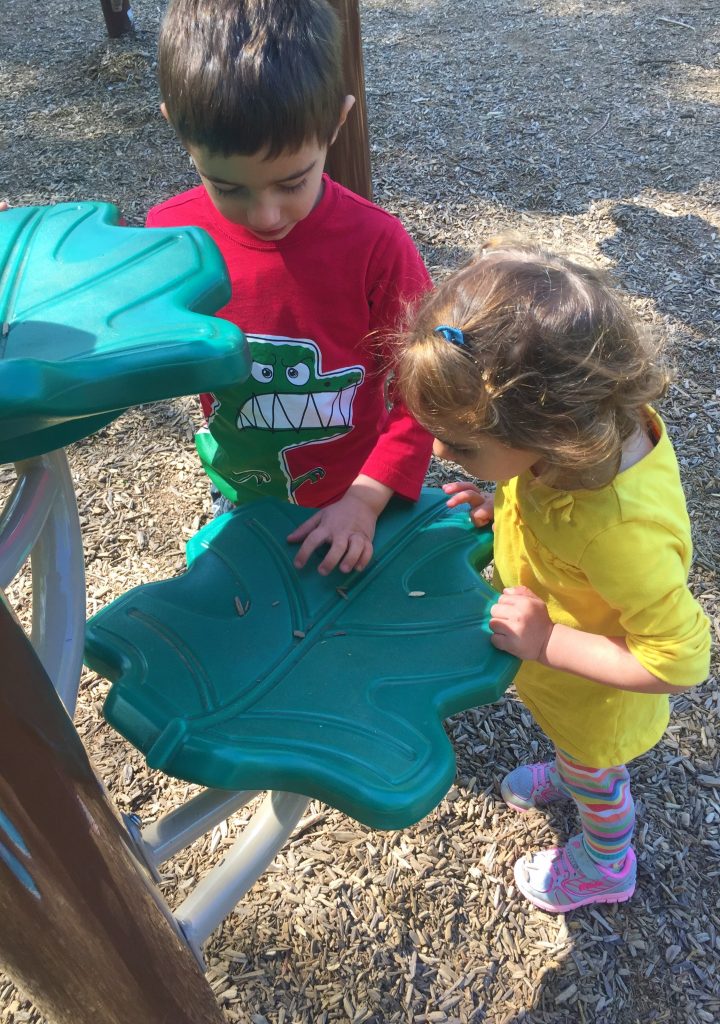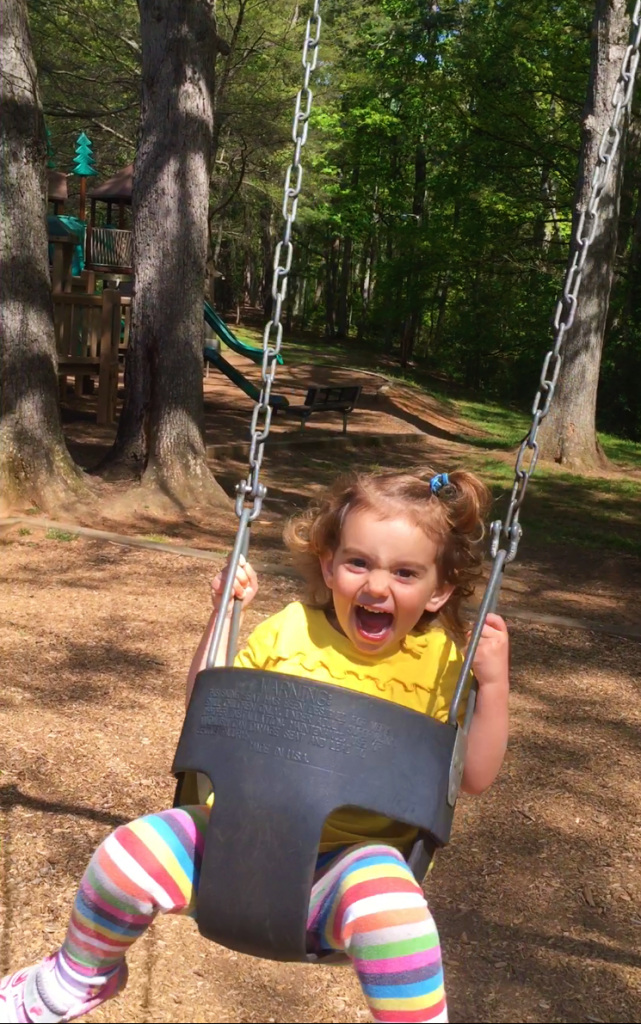 #4 Hope Park, Mooresville NC
Hope Park is located on 106 Montibello Dr, Mooresville, NC 28117. The Park is open daily from 6AM to 9PM and is free to explore.
Hope Park is one of our absolute favorite parks in Lake Norman. It has two different sections to it. One is designated for little ones and has smaller slide contraption and swings, a candy shop, bouncing riding toys and few other small constructions for kids to enjoy. Benches are conveniently located all around the playground so parents can have a sit while kids are entertaining themselves.
The other side of the playground consist of quite elaborate castle looking structure with multiple entrances and levels, larger slides and climbing walls and tunnels. It has tires you can hop on from one to the other, multiple swings designated for older children, tire swings, rope climbing walls and running platform. Wooden race cars are located all around the playground where kids can sit in and pretend to be driving. There are 22 little race cars nailed across the playground with instruction for the kids to go around and find and we always love playing this game and seeing which one of the kids would find all of them first.
Hope Park is equipped with a splash pad open in the summer which is a great way to cool off on a hot North Carolina summer day in between playing on the playground. It is located right by the parking lot and is the first thing you see as you walk through the entrance of the park. Benches are located  all around the splash pad and all of them are mostly in the shade. There are bathroom facilities located right by the playground with water fountains.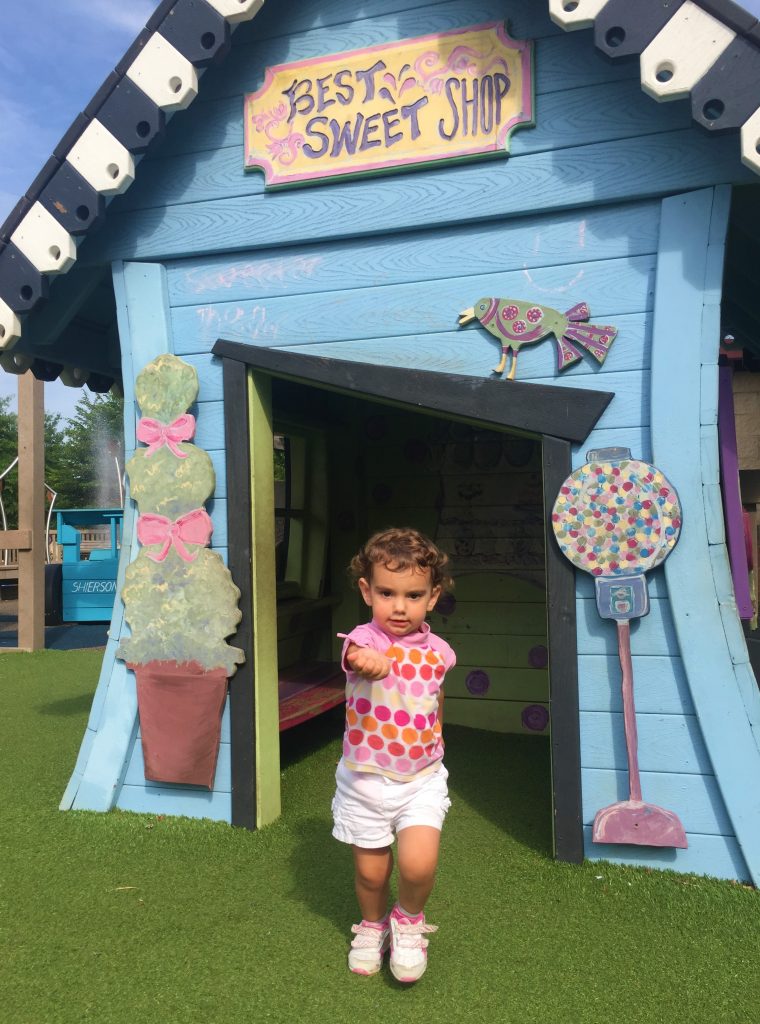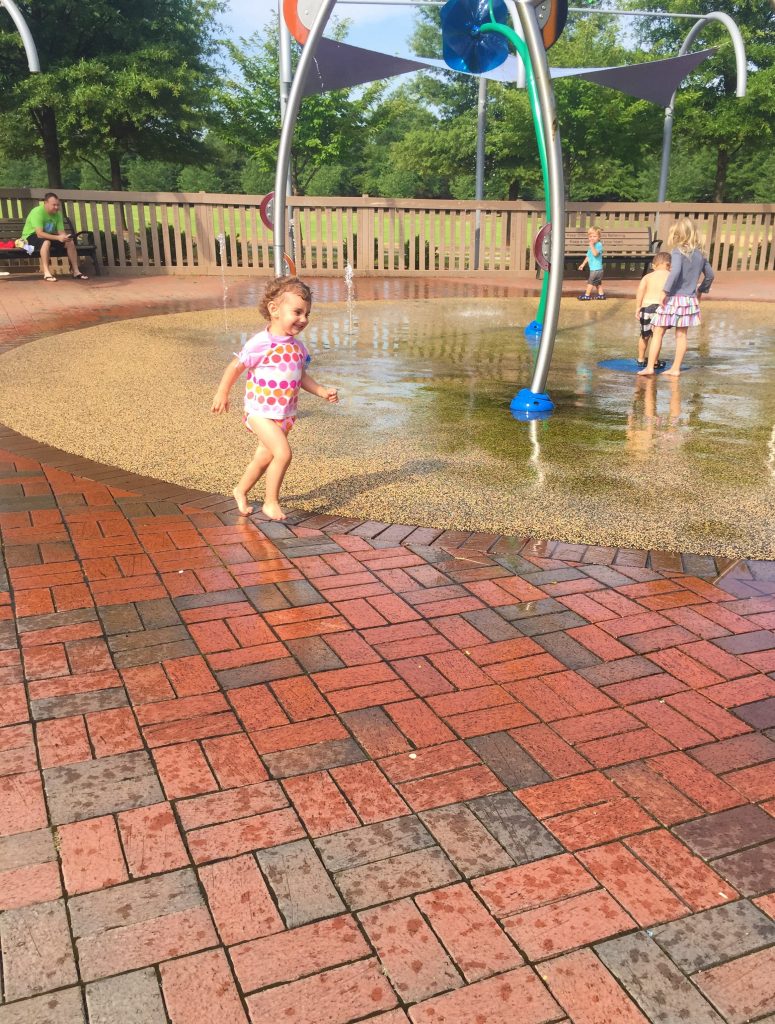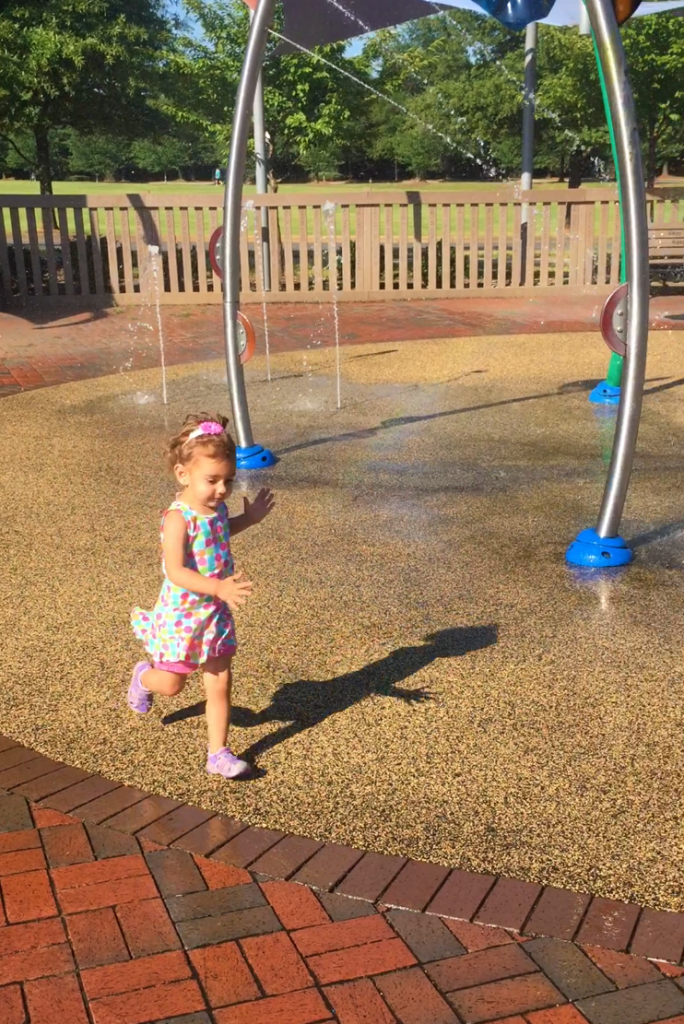 #5 Bailey Road Park
Bailey Road Park is located on 11536 Bailey Rd, Cornelius, NC 28031. It is open from 7AM to 7PM and is consistent of 66 acres of lighted soccer fields, football fields, three lighted tennis courts, two lighted baseball, softball fields, two full-court basketball courts, a running track, a walking and jogging loop, a playground and sheltered picnic areas with public restrooms.
Bailey Road Playground consist of multiple structures all giving the illusion that you had just stepped into a farm the first time you lay your eyes on it. The larger structures designated for older kids is made to look like a barn with climbing wall inside and a larger slide. The smaller structures resembles a silo with few steps leading the a smaller size slide. There is a small climbing wall right between both contraptions representing the jack and the bean stock vines leading to the giant and the golden goose in the clouds. Three pigs are "bathing in the mud" right next to the bean stock with two climbing "boulders" surrounding the.
There are two swings structures one for younger and one for older kids as well as farm to table fresh veggie stand and a pretty large sandbox. The playground despite it's size is extremely entertaining and interactive.
The bathroom facilities are located right near the good sized parking lot and the playground is a short walk from there. There are two swinging benches and a picnic pavilion conveniently located right by the playground where parents can have a sit while kids run around.
#6 The Caldwell Green Tot Lot
The Caldwell Green Tot Lot also known to locals s the Davidson Tot Lot is located on 320 Caldwell Ln, Davidson, NC 28036 and is open daily with no entrance fee.
What we like about this playground is that it is completely fancied in so little once can run around without the chance of them running of to the street while the parents can have a rest on one of the multiple benches located withing the playground.
Davidson Tot Lot does not have a playground structure but has a ton of ride on vehicles, a tunnel that goes under the little hill that stands in the center of the playground, and which kids use as a ramp to go down with some of the ride ons.
A huge shaded sandbox is located right by the hill and there are plenty of digging machines little ones can use.  Little slide slides right into the box and makes for great fun for kids. There are multiple ride on cars and trucks and bikes so your little one never has to wait a turn or be told that he/she has to share.
We usually park on the street right by the playground as it is never that busy, but there is a church right across where you can find a parking spot as well if you do not want to park on the street (you would just have to walk a short distance). There are no bathroom facilities or water fountains located within the playground or nearby so plan accordingly. We did however found a community garden located right across the playground with picnic tables which was the perfect spot for a little break in between playing for a picnic with a view and the perfect opportunity to have a conversation with the little ones of what it meas to have and be a part of a community and works as one on a big project like this. They were also very curious about all the veggies that were growing in the garden so we get to have a little lesson on what is what and how they all grow.