A little over an hour drive from the city of Charlotte, NC brings you to this little known destination that is sure to impress you with stunning views of the the Yadkin Valley, Lake Tillery and surrounding landscape, especially when the leaves have all fallen off the trees.
There are about nine trails to choose from at the Morrow Mountain State Park depending on your level of hiking experience and the amount of time you are looking to spend here. The trail length varies from a little over half a mile to about five miles for the longest trail. Some of the trails are loop trails and some of them go one way and back. There is only one hike of about two miles that is considered to be strenuous as it goes straight up Hattaway Mountain and is a great way to get the blood flowing. All of the other hikes are relatively easy with most of them going through chestnut oaks and sourwoods, rocky ridges, to overlooks and pass streams.
The landscape of Morrow Mountain, which lies within the Uwharrie Mountains (a mountain range that stretches from the counties of Randolph, Montgomery, Stanley, and Davidson and was once a coastal mountain range), consists of diverse habitats and landforms. These Mountains when they were first formed rose to over 20 000 feet above see level, but with time the erosion has gradually beaten them down to a little more than high hills that average less than 1,000 feet in elevation.
Morrow Mountain is the highest peak of the several here rising above 400 feet higher than the surrounding countryside and is also very important part of the ecosystem as it contains the Yadkin-Pee Dee River which is one of central North Carolina's largest river systems.
Morrow Mountain has an interesting and important history. Artifacts have been found here that show the presence of Native Americans at least 12,000 years before European settlement and many rhyodacite spearheads, knives, axes, scrapers, weapons and tools have been excavated showing one of the most extensive bodies of Native American stone work in existence.
We arrived midday and didn't have much light so we decided on the Mountain Loop Trail. There is ample parking and few overlooks near by where you can embrace the views before heading on the trail. We found a shaded wooden picnic table (there are plenty of them here) where we enjoyed a delicious picnic with a view of the mountains and let the kids run around stretching. There are bathroom facilities right by the parking lot in case you need to wash hands before starting your hike.
The trail starts at a very well maintained and marked path through mature woodlands and kind of goes along the mountain side on mostly flat but quite rugged and rocky terrain. You'll be walking over rock debris, minerals and artifacts from thousands of years of pre-historic quarrying which the park highly recommends to not be touched or removed as it is against the law.
There are plenty of opportunities along the trail where you can sit and delight in the stunning vistas ahead of you. Despite it's short length of approximately 0.8 of a mile it is extremely interactive and exciting. The fallen logs made for the perfect improvised bench for our littles and they thoroughly enjoyed having a snack, chatting and asking us questions about the things they can see while sitting on it. It also made for the perfect picture to look at at later time that pretty much summed up the wonderful experience we had here.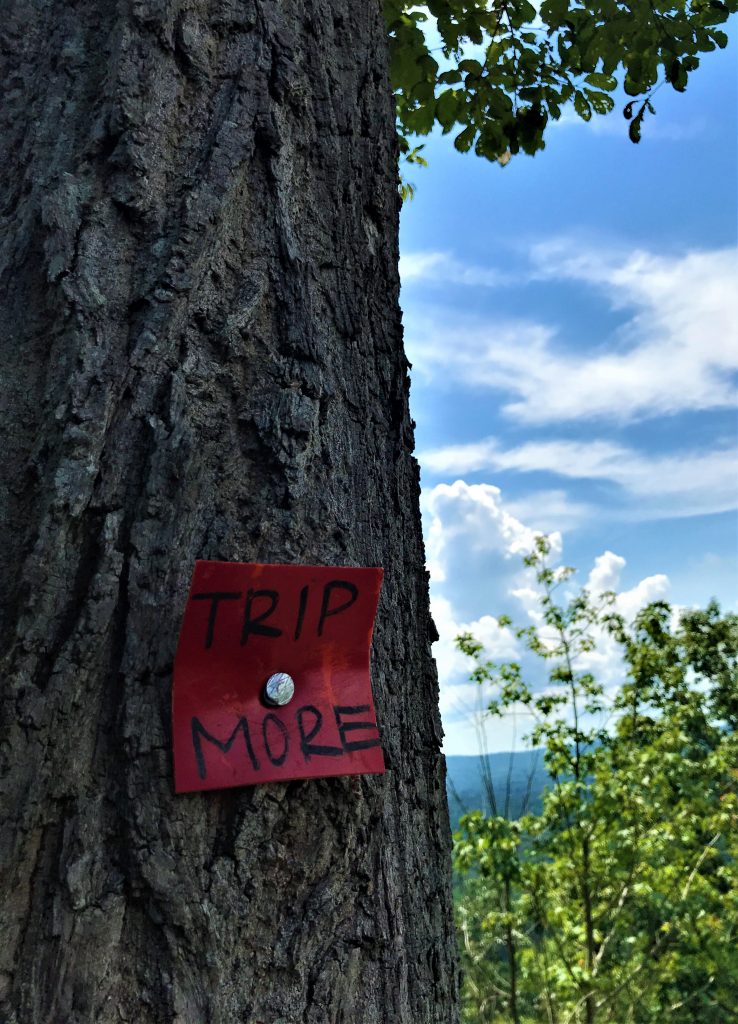 Since we finished the hike quicker than we thought and our little ones were happy and wanting to explore more we decided to venture a little further and went onto the short 0.6 mile long Laurel Trail.
The trail is named after the mountain laurel found along it and snakes along Sugarloaf Creek passing near the park's vacation cabins before it finally reaches the park's museum. If you are looking for a longer and more daring hike you can take the Morrow Mountain Trail which connects the Laurel Trail to the Sugarloaf Mountain Trail which is approximately 2.6 miles long one way and ascends the park's second highest peak at 858' above sea level.
Morrow Mountain State Park Museum is a small museum commemorating the history of the Uwharries Mountains and the Native American presence throughout the years here. There are exhibits of  plant and animal communities, early explorers, and rocks and minerals. The museum which is located on the far end of the Camp Office parking lot and offers self guided tours is open six days a week from 9AM to 5PM.
Morrow Mountain State Park has a variety of tours and events which you can find here. It also offers affordable and family friendly camping with many exciting camping options, from cabins nestled in the forest to primitive beach camping. The Park offers family camping, group camping, tent and RV sites and paddle-in sites. For more information and question you can search here. The Park also offers guided hikes, rock climbing, boating and paddling, fishing, picnicking and swimming. There is a large parking area along with picnic areas, grills, and a shelter which you can rent and use. Due to varying currents and underwater hazards, swimming is not allowed from the shore of the lake, but an Olympic size swimming pool could be used and is  open from Memorial Day weekend through Labor Day weekend.