If you haven't been to Greenville, South Carolina yet you need to hurry and put it on your list. Greenville is the sixth largest city and the third-largest urban area in South Carolina as well as the fastest growing with estimated population of 68,219 as of 2017. It is a little over an hour and a half drive from Charlotte, North Carolina and about two and a half hours from Atlanta, GA. Greenville is the perfect spot to spend a day with the kids while getting some great exercise and experiencing the city by foot.
We've gone here several times now and would love to share with you the best way to keep the kids happy and busy while exploring a new city and managing to see more than you would've ever though you would in a day.
Our day starts at the Greenville Zoo located at the largest park in Greenville. Cleveland Park consist of 120 acres of greenway along Richland Creek and the Reedy River. The Zoo has a huge parking lot and is the place where you park your car and forget about it until many hours later when you have done all you can do here and are ready to head back home.
The zoo that opened in 1960 and is still functioning today is located on 150 Cleveland Park Drive, Greenvile, SC on a 14-acre site within Cleveland Park near interstate 385. From March 1st- September 30th the Zoo is open from 9 a.m. to 4:15 p.m. daily. From October 1st – February 28th the hours of the Zoo are from 10 a.m. to 4:15 p.m. daily. The zoo closes daily at 5:00 p.m. The costs to enter is about $10 for adults and $6.50 for children. Kids 2 and under are free of charge. If you think that you would come back and visit the Zoo more than once we highly recommend looking into the annual membership which gives you great benefits and makes up the price for membership after only 2 visits. You can find their prices and description of what you get as a member here.
The tour around the Zoo takes anywhere from an hour to an hour and a half. It is really easy to navigate and perfect for all ages. There is usually a Zookeeper kind of walking around and giving details and history on the animals, which is extremely informative and super cool for the kids to hear.
Here at the Zoo you would find Giant Anteaters, Rheas, Ruppells Griffon Vulture, Aldabran Tortoises, all kind of Monkeys and Birds, Red Panda, Orangutan, Ocelot, Ektopia, African Lions, Amur Leopard, Black and white ruffed Lemurs, Schmidt's Red-Tailed Guenon, Goats you can feed, Giraffes, Siamang, Lagoon, White-Nosed Coatimundi and Alligators just to name the few.
There is a special room for reptiles you can walk through with snakes, frogs, lizards and other cold blooded creatures.
There are several very interactive playgrounds where kids can play in between visiting with the animals. Benches are located all along the paved walkway of the Zoo where parents can have a sit and rest while the kids are enjoying the wildlife in front of them taking their time. There are signs in front of all the enclosures with information of what animal you are looking at, where did it come from and fun facts about it. Picnic pavilion with snacks and quick lunch items and drinks, water fountains and changing stations are located right in the center of the Zoo by the bathrooms.
Greenville Zoo offers all kind of programs, summer camps, zookeeper camps and can be reserved for birthday parties and unique experiences. You can find a list and details on all of the happenings here.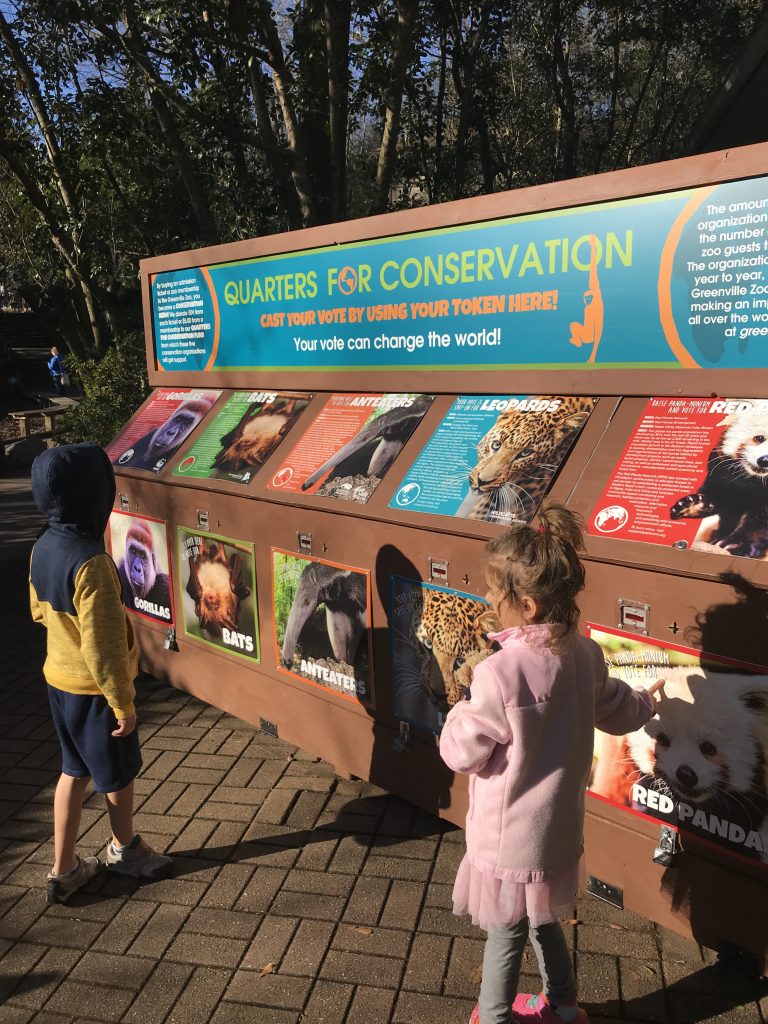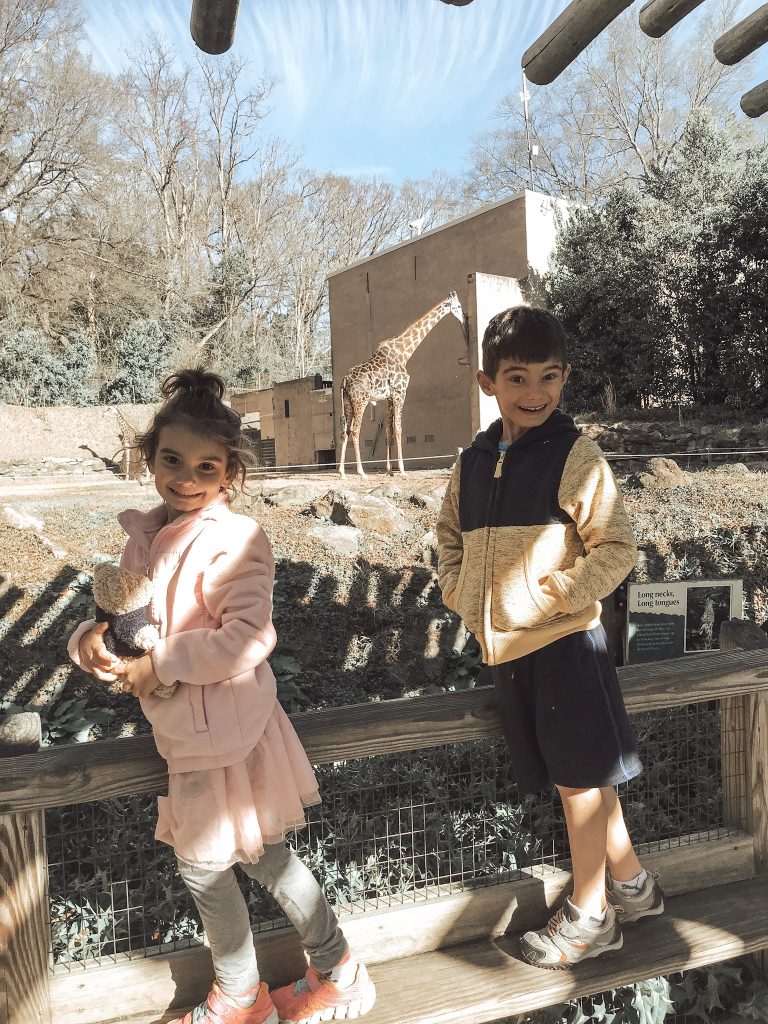 Once you are done with touring the Zoo head down to the playground outside. This massive contraption is perfect for kids of any age as there is something for everyone here. There are several structures with slides of all sizes, swings, a little train kids can pretend that they are driving, climbing walls, rope courses and a huge spider web climbing contraption right by the big playground which seemed to be a favorite among all kids.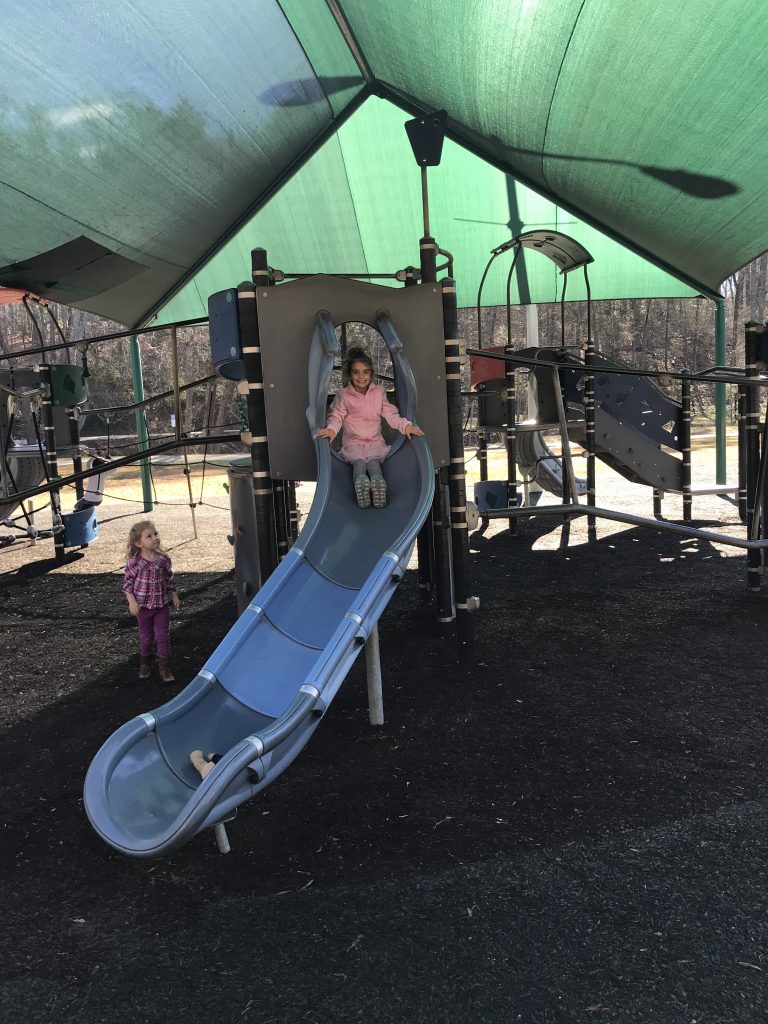 Once our kids are done with the playground and have had a little snack to hold them over before we find a spot for lunch, we start our trek along the Swamp Rabbit Greenway. The 22 mile Greenway that crisscross along the Reedy River, an old railroad corridor and City parks and connects Travelers Rest with the City of Greenville is one of the bests ones we've been on. From here we would follow the trail for about a mile and a half, crossing several bridges, pass an old airplane perched by the side of the Greenway, the Rock Quarry Garden and the Cancer Survival Park with benches and cascades you can sit by and just listen to the thundering water washing the rocks and quickly slowing down and merging with the deep river. Our destination is the Falls at Ready Park at the center of the city.  There are several stops you can take along the way at either of the exercise equipment located by the creek or the little playground with the train kids can climb and play on.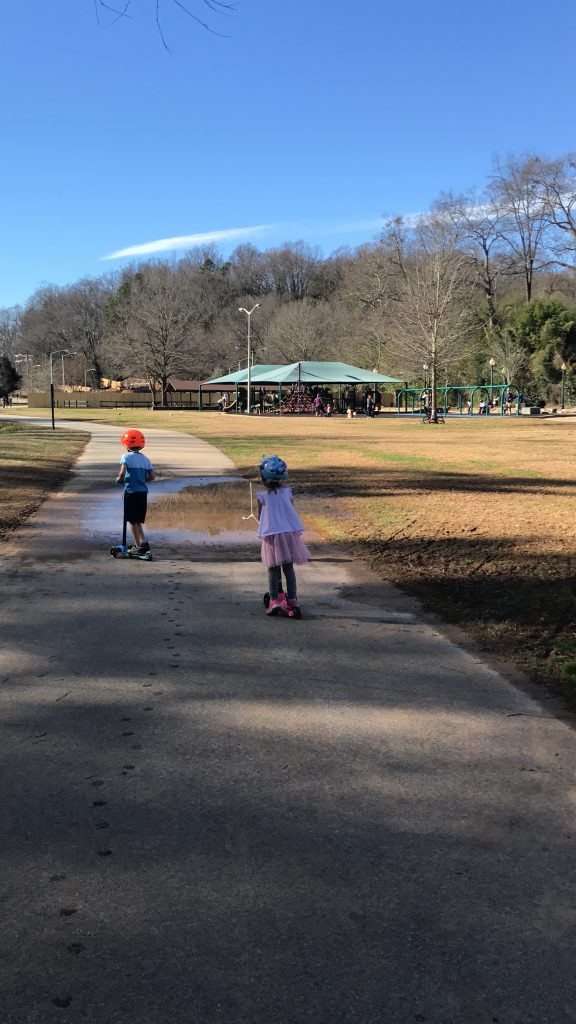 Once at the end of the Swamp Rabbit Greenway you would have to make a decision and choose one of the many amazing spots where you can grab a bite to eat. We often stop at the Mellow Mushroom Pizza as it is our kids favorite, but we also love the Husk Greenville with farm to fork southern kitchen dishes, the Papi's Tacos if we are in a mood for Mexican food, Marry's at Falls Cottage that offers lunch with a stunning view. Another one of our favorites if you are looking for a lunch with a view and good beer to pair it is The Carolina Ale House offering typical american food and brews on tap.
Of course as it always goes with us dessert is mandatory after lunch so we hit The Marble Slab Creamery – our absolute favorite spot to get ice cream while in the town of Greenville, South Carolina. If you haven't had the chance to experience their delicious handcrafted ice cream that they have been serving since 1983 we highly recommend you give it a go. They have all the flavors under the sun (75 in total) and unlimited add- ins. After you pick the size of your cup and the desired flavor of ice cream they ask you to pick any of the unlimited toppings that they mix in your ice cream right before you on the marble slot before serving it to you. It's absolutely divine and our kids always ask for it while in town. Just make sure that you take a good look at the sizes since even the kiddie cups are sometimes challenging for us to finish.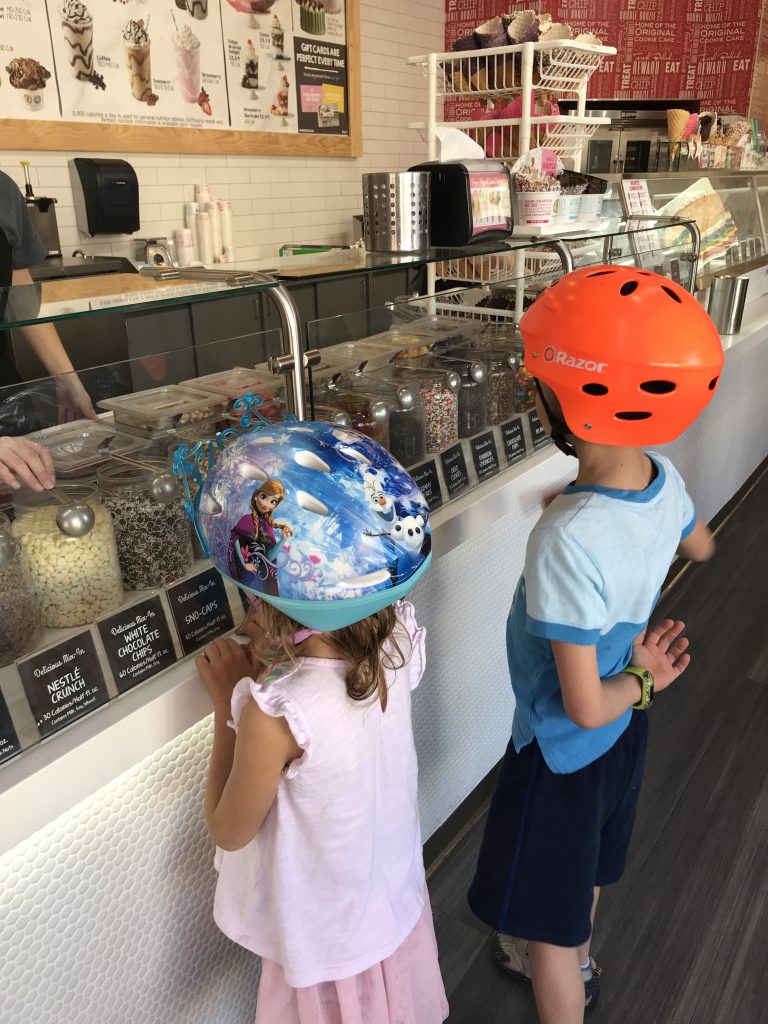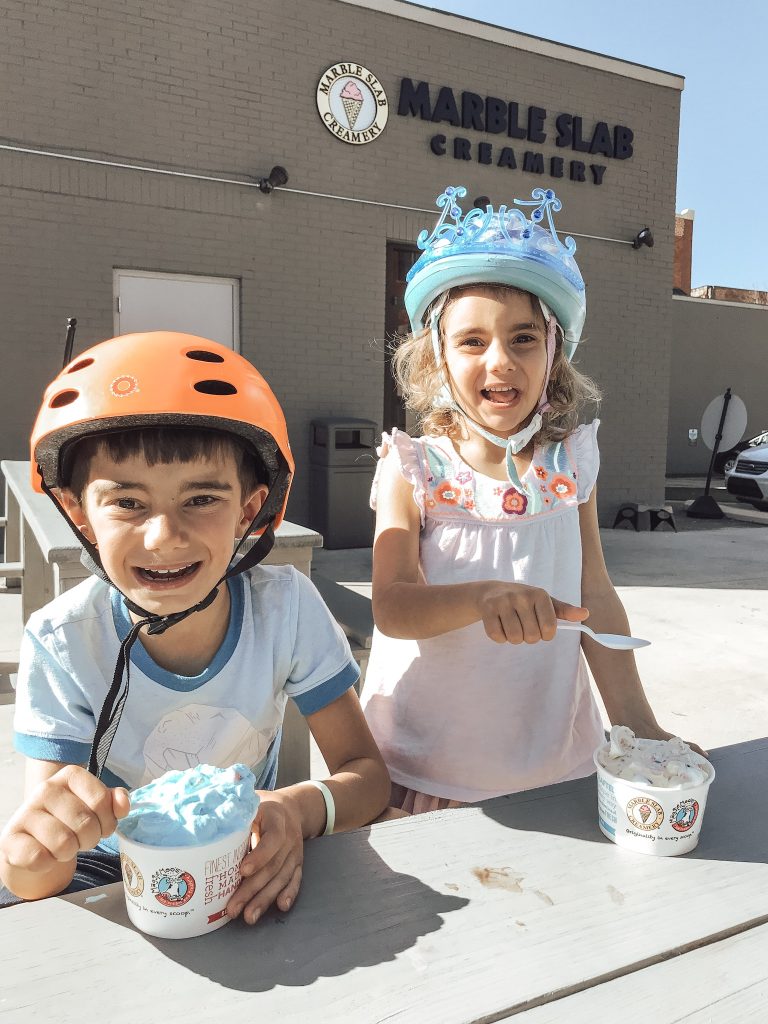 Now that our tummies are happy and full we head over to the Falls at Reedy Park. It is hard to believe that they are running right here in the center of town for everyone's enjoyment. You can go over the suspended bridge and see them from distance (that's the best spot for a family picture with the falls as a backdrop) or head down by the water and get close. If you don't mind the kids getting a little wet let them splash in the water and even climb on the rocks (of course with your close supervision). The Falls are a spectacular sight and every time we've been here they always rush really hard with full waters roaring over the boulders. Sit by the water while the kids wade, play in the sand and run around or lay a blanket and just relax wit this unbelievable sight in front of you.
And if you still have energy head over to the custom designed Children's Garden at Linky Park designed to enrich children's creativity through exploration & discovery. We love this park as it reminds us of The Story of Peter Rabbit which is our all time favorite book. The Park is a wonderful place for kids to express their imagination while recreating and pretending to be a part of all of their favorite children's stories.  You can literally spend hours here if you had enough time in the day.
At this point you would probably be running out of daylight so you can decide to either stay a little longer, maybe grab a dinner at one of the many restaurants around and then Uber back to your car or head back for the half an hour walk on the Greenway the way you came.