Lake James State Park is located near Nebo, NC and covers over 3,707 acres and borders 6,510-acre lake offering over 25 miles of trails (15 of which open to mountain biking), swimming, fishing, kayaking, boating and more. The lake is known to be one of the cleanest in the state of North Carolina bringing visitors from the nearby Burke and McDowell Counties and from far beyond the county lines.
Lake James is an important part of the state's history and was man-made after the devastating flood caused by back-to-back Category 4 hurricanes, which hit the mountains of North Carolina in July of 1916.
The State Park is only an hour and a half drive from Charlotte, NC winding through the country side with distance views of the Blue Ridge Mountains, 45 minutes from Asheville NC and a little over an hour drive from Statesville, Mooresville and Gastonia, NC.
Lake James beach is bounded by the State Park and Pisgah National Forest and offers stunning vistas from multiple spots in the park as well as gorgeous views of the hills from the well maintained and extremely clean beachside. The swim area is open daily from 10am to 6pm between the months of May 1 through September 30. Swimming is only permitted in the Paddy's Creek Area within the designated swimming area and is free if there is no lifeguard on duty. Entrance fee (minimal) can be paid at the entrance upon entering the beach area if there is a lifeguard on duty the day you are visiting.
This hidden gem in the mountains of North Carolina is one of our absolute favorite spots to spend a day away from the hustle and bustle of the city, enjoy family time with our littles, make memories for years to come an all of that while surrounded by serene scenery and expansive mountain views.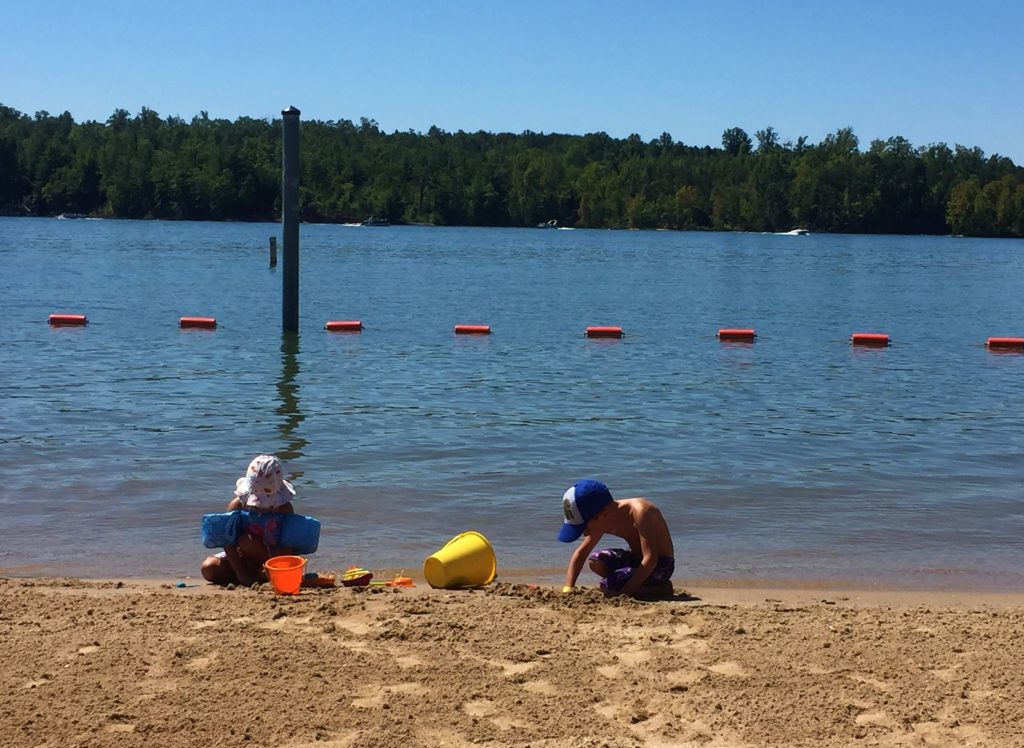 The Park has ample parking and even on busy days you'll be able to find a parking spot with no problem. There are bathroom, indoor/outdoor shower facilities, lockers and a couple of unisex restrooms for families located right at the entrance of the beach as well as a little snack shack offering refreshments, light snacks, sandwiches and ice cream. It's a walk-up window and no seating, but there are plenty of wooden benches located all around the area where you can enjoy your meal.
There are stairs you would have to take down to the sanded beach so plan accordingly. We do bring a little wagon with us to carry all of our beach toys and towels which we have to carry down the stairs, but it is not a long trek cascading so it's never been a problem for us.
Towels, sunscreen and other necessity's can be found for purchase at the little store which have proven to be really convenient for us in incidents where we've come here and realized we've forgotten something we need. There are live vests right by the beach which you and your kids can use free of charge and plenty of beach area to set a towel down or open a sun tent. The kayaks are also located right by the swim area which makes it super easy to take them out on the water.
There are plenty of spots for a picnic in the Lake James State Park but we do like siting by the water and having our picnic while settled in the beach chairs under the sun tent and enjoying the peaceful views in front of us, before heading for more play on the beach and swimming in the water. The pristine deep waters of the lake have always been pretty warm (at about 75 degrees) during all of our visits and we've never felt uncomfortable or cold while swimming here.
Once done swimming and all cleaned up at the showers and had had ice cream or a snack from the snack shop we like to take a little hike. Lake Jame State Park offers about 13 different trails, all of which very well marked and maintained and ranging in length and difficulty depending on what are you looking to get out of it.
Our all time favorite hike here to do with kids is The Holly Discovery Trail. This mostly flat, easy trek through the riparian forest adjacent to Paddy's Creek is a part of the Junior TRACK Trail Adventures and is a 0.75 miles loop through lush greenery and interactive objects build specifically for kids exploration.
No matter how you are planing on spending a day(or few) in nature either hiking, swimming, mountain biking, kayaking and camping Lake James should be on your list as it has it all. The Park also offers multiple events and programs which visitors of all ages can enjoy and you can find a list of them here. We highly recommend you come and visit this beautiful spot nestles between the mountain hillsside and you might just find yourself returning time after time just like we do.