We had no idea when we first moved to North Carolina that we'll be that close to a Renaissance Festival and not just any, but one of the biggest in the country. We continuously made plans year after year to go visit, but because we've never been to one, and having no idea what it's like, we wanted to check it out without kids.
We have wonderful family, but unfortunately they live out of state and the timing never worked out to go together.  Slowly we came to the realization that if we really wanted to go and experience the festival it would have to be with kids in tow!
The Carolina Renaissance Festival is open weekends in the months of October and November between the hours of 10 am and 5:30 pm.  They have different ways you can get cheap tickets (military and senior discounts) as well as several weekends where you can get buy one get one free ticket or bring canned food and get a child ticket for free. Kids under 5 are always free. The parking is a breeze and is always free as well.
Once you step past the gates of the North Carolina Renascence Festival you would not believe your eyes. You are immediately transported back in time. The grounds are huge. You'll get to walk and talk to men and women dressed as different characters, hang out with mermaids, knights and dragons, see all sorts of wonders, drink local beer and eat your weight in their famous turkey legs.
Not really sure how they get to put all of this together in such a short time. It must be a massive job, but they transform this place into something out of a fairy tale. We learned that when the Festival originally opened there were 6 acres which slowly grew to 25 acres of attractions. So give yourself enough time to be able to explore all the wonders that the Fair has to offer. There are approximately 200 000 people that visit the fair every year and I can tell you after our first visit we can't wait to go back and enjoy it all over again every fall.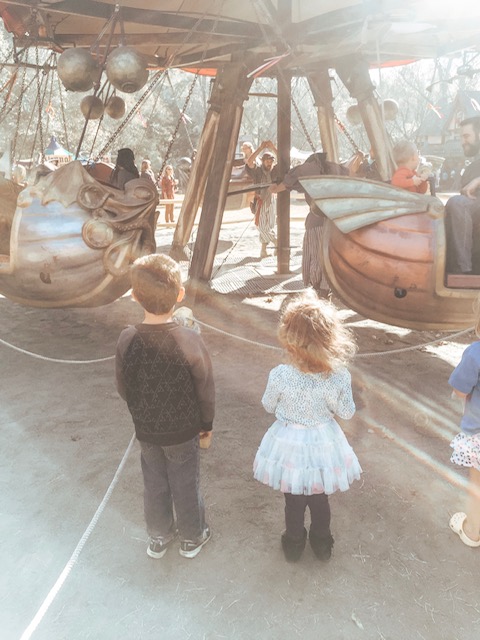 Our kids were amazed by it all. I've never seen their eyes light up with such curiosity and wonder.  From colorful outfits and all the people mingling around to the man-powered rides and all the little shops you can go into, they were in heaven. They got to see a play, dress in knight armor and have a little pretend fight, ride a camel, go through the spooky tunnel to the slide, hunt for gold coins and have delicious food and snacks in between. There was face painting, jugglers, rock wall climbing, bungy jumping, animal petting, puppet show and an impromptu show where they were allowing crowd participation.
We realized all of our worries about bringing kids to the Festival were unnecessary and only felt regrets that we didn't do it sooner. The look on their faces say it all!
Carolina Renaissance Festival is located between the towns of Huntersville and Concord on Route 73 and you can find it here:

We definitely recommend picking out a weekend and heading this way. And the sooner the better! Take the kids or your friends and enjoy a day full of assortment of medieval themed foods and ale, variety of handmade arts and craft goods, games, archery target-shooting, crossbow shooting, axe throwing, frog catapults, handmade jewelry, artisan leather goods, candles, glass blowing and so much more. They also have several themed weekends where you can dress up and go back in time to the Renaissance era, Kids Fantasy Weekend, Brew-fest Weekend, Halloween Daze, Celtic and Pirate's Weekend. It would be an experience you won't soon forget!