Covering over 32,475 acres and with 520 miles of shoreline and a surface area the man-made Norman Lake in North Carolina is known as the "inland sea" and has been a travel destination for over 50 years and a reliable source of power and water for the region.
When we first moved to Charlotte and were researching easy hikes with young kids within an hour from the city that was one of the first hikes that poped up and we were really excited to hit the trail and check it out. And we weren't disappointed. Since our very first visit here we had returned at least a handful of times, loving the trail by the lake more and more every time we adventure here and finding new ways to enjoy it as kids get older throughout every season.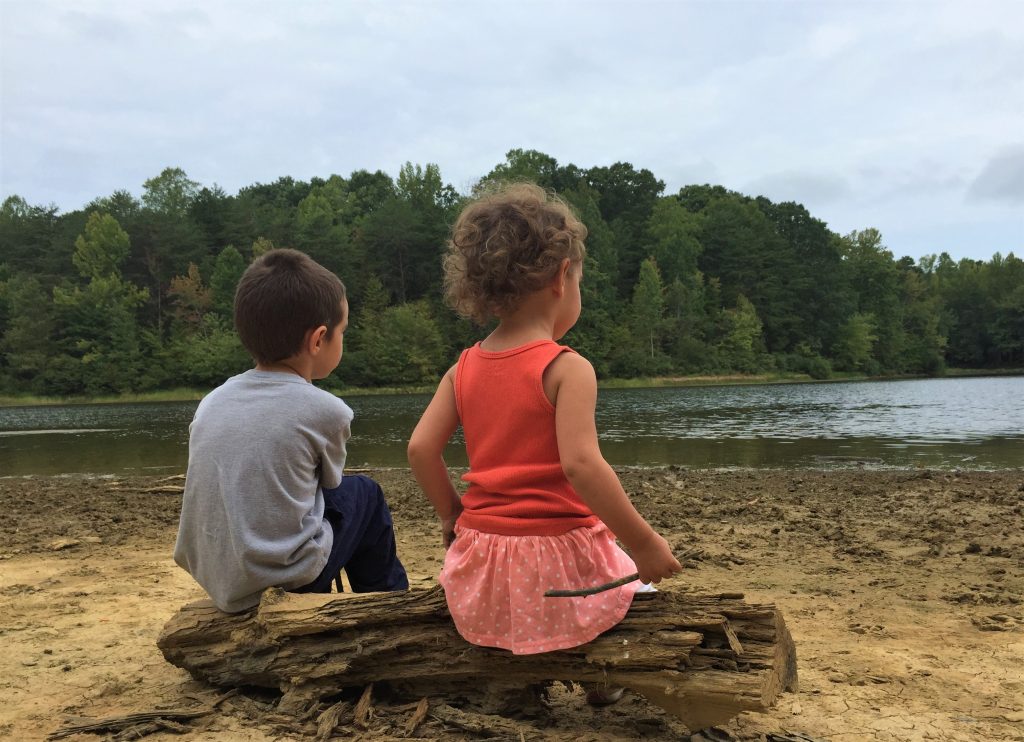 While the kids were really little we loved bringing them to the Dragonfly Trail which is completely paved and about .15 miles long. It was a great way to ease them into "hiking" and introduce them to the love that we have for nature and install a lifelong taste for adventure.
The Dragonfly trail starts at the parking lot of the Lake Norman State Park Visitors Center and is extremely interactive with wooded signs along the path of animals, plants and footprints that encourage the little ones to try to spot as they explore the little path and the lush green woods surrounding it. Our littles loved them and thought it was the funniest game playing pica-boo with the signs.
Dragonfly Trail is stroller accessible and there are few benches and a pavilion near by where you can sit and enjoy a snack or a picnic with the beautiful view of Lake Norman. The trail is wonderful for birdwatchers as we've seen and heard all kinds of them.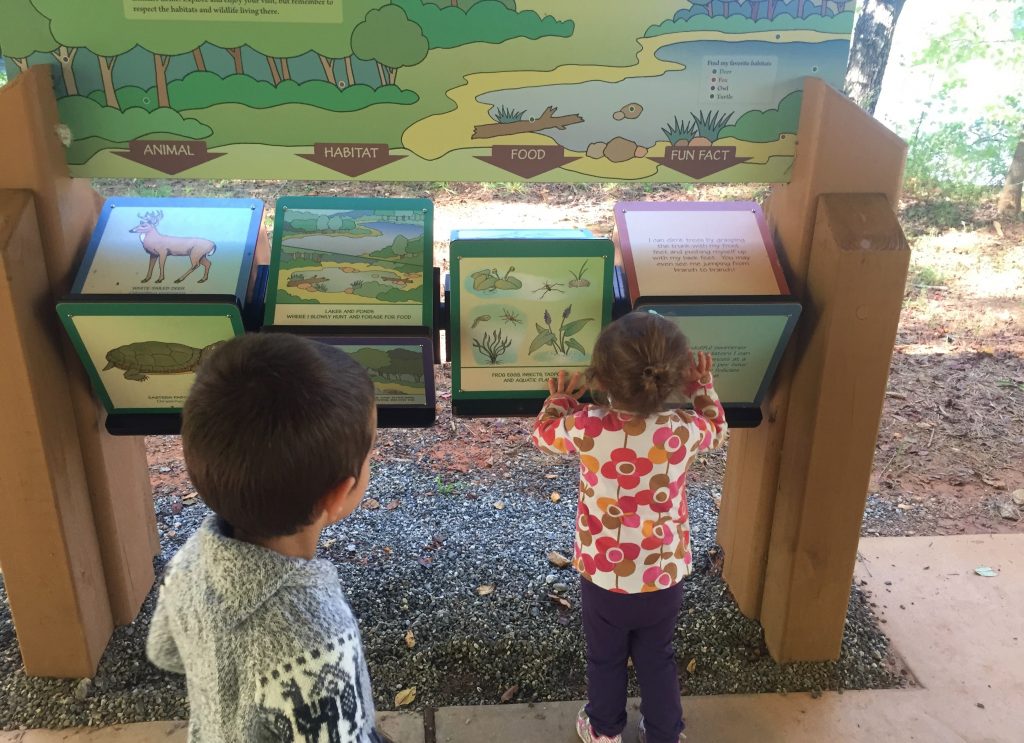 As our littles got more comfortable hiking and knowing how to stay safe and not walk too close to the water we ventured out in the Alder trail. This "hike" is one of our favorite and throughout the year we would come and do it at least few times a month and it just never got old. It waves through the woods right by Lake Norman for almost the entire trail and we've often seen deer run by, jumping fish, herons and other birds and have had wonderful conversations with other families sitting by the edge of the water either fishing or just enjoying the serene scenery.
The trail is absolutely beautiful during all seasons and you would not believe that you live such short drive to such spectacular nature setting if you've heard someone telling you about it and haven't come here and seen it for yourself. We love climbing on the rocks by the side of the lake, searching for pine cones to take home for crafts later in the day while relaxing after the hike along the wooded path between the large trees and marveling at the wildflowers that surrounded us.
The trail as about .8 miles long of mostly flat terrain and very easy no matter your hiking skills. Midway there is a bench right by the side of the lake where we've made it a tradition to sit with a snack and just take in the marvelous views of the water and nature sounds of the woods. It is so dreamy and literally recharges us and makes our hearts happy. After the snack the littles love to skip rocks in the water to see which one would make it to the other side of the lake.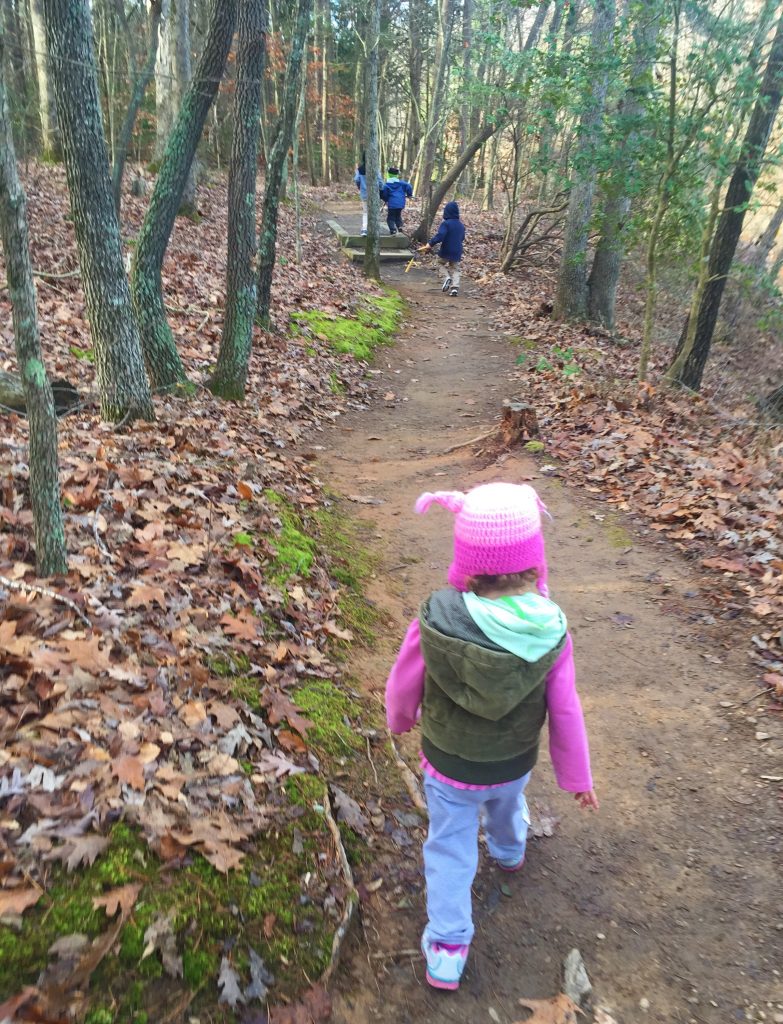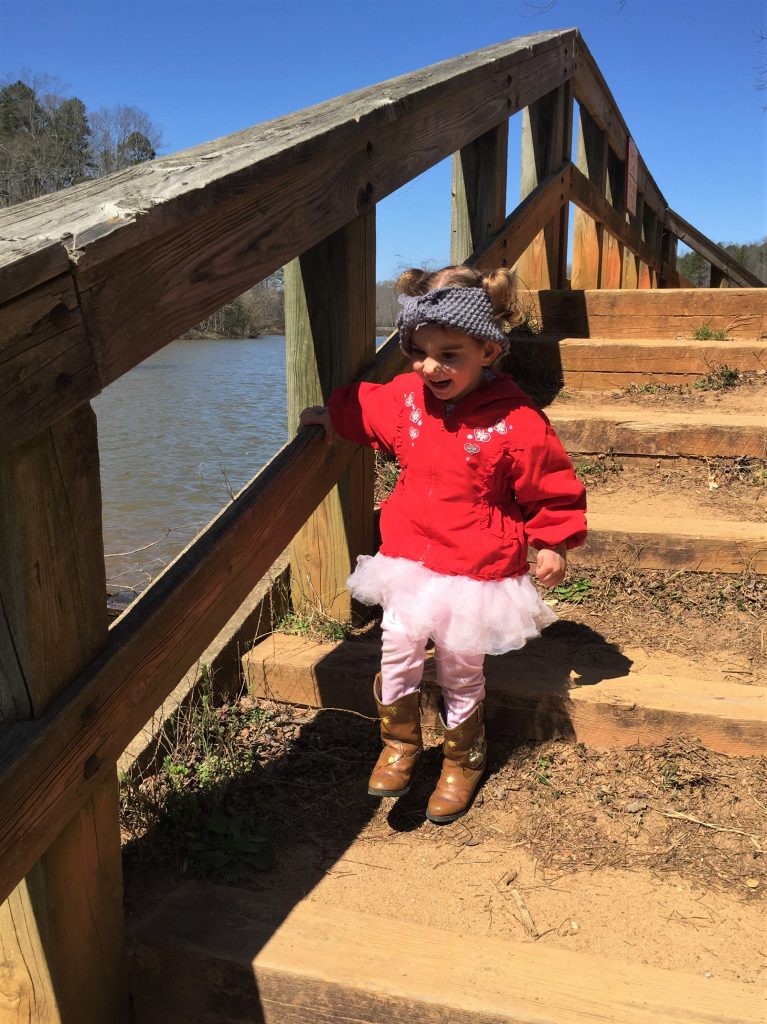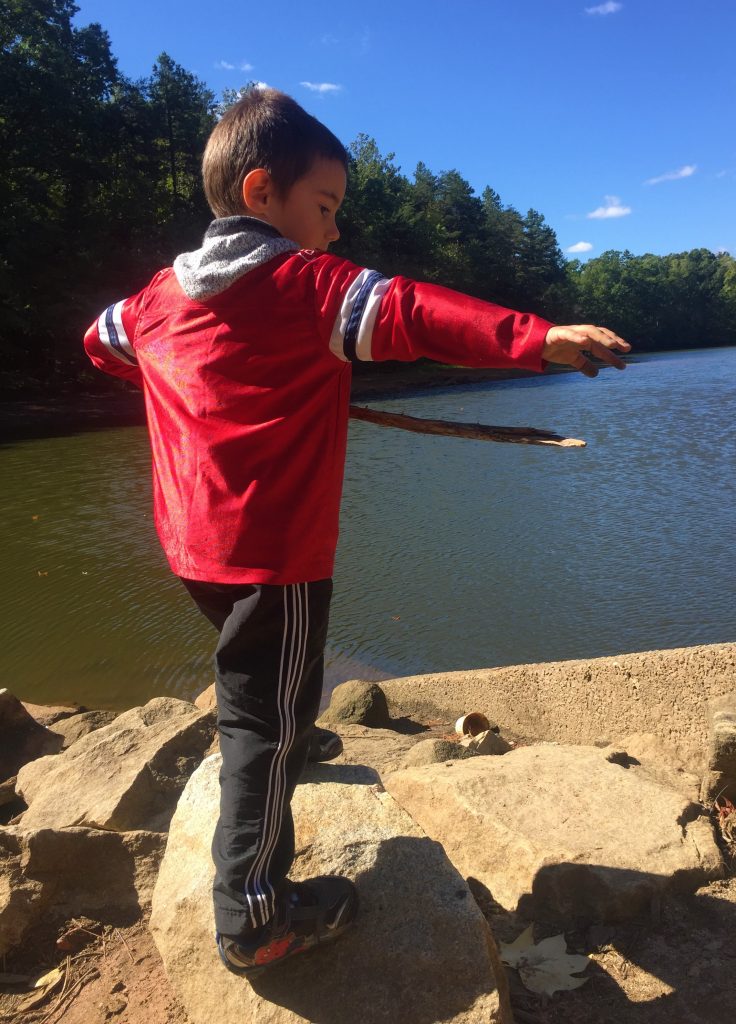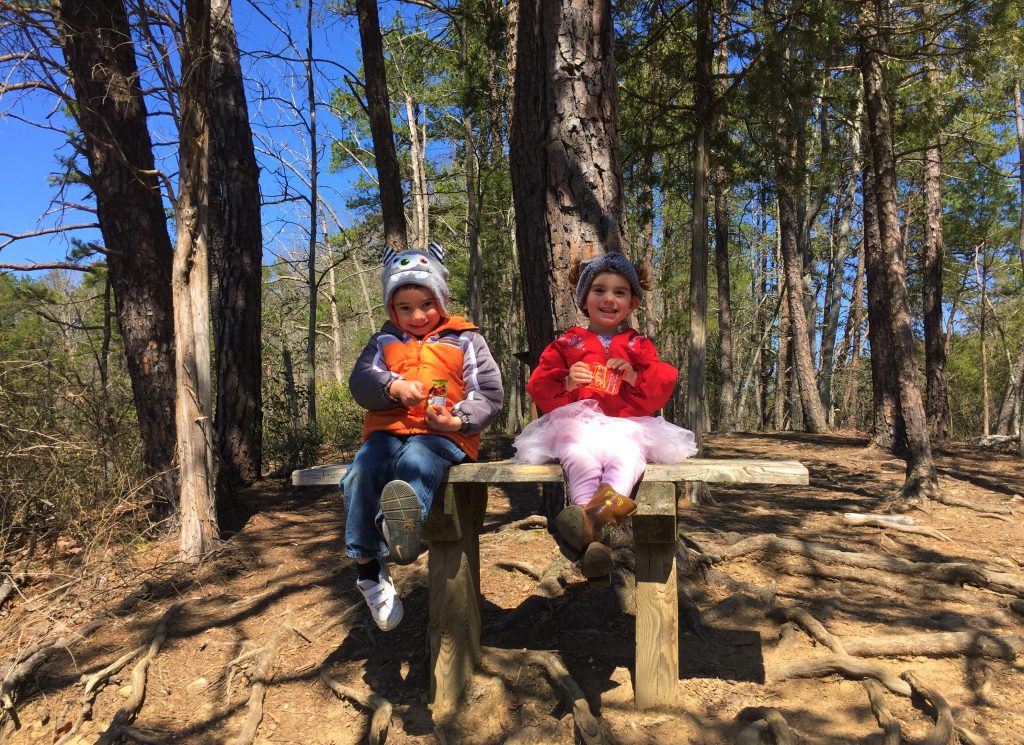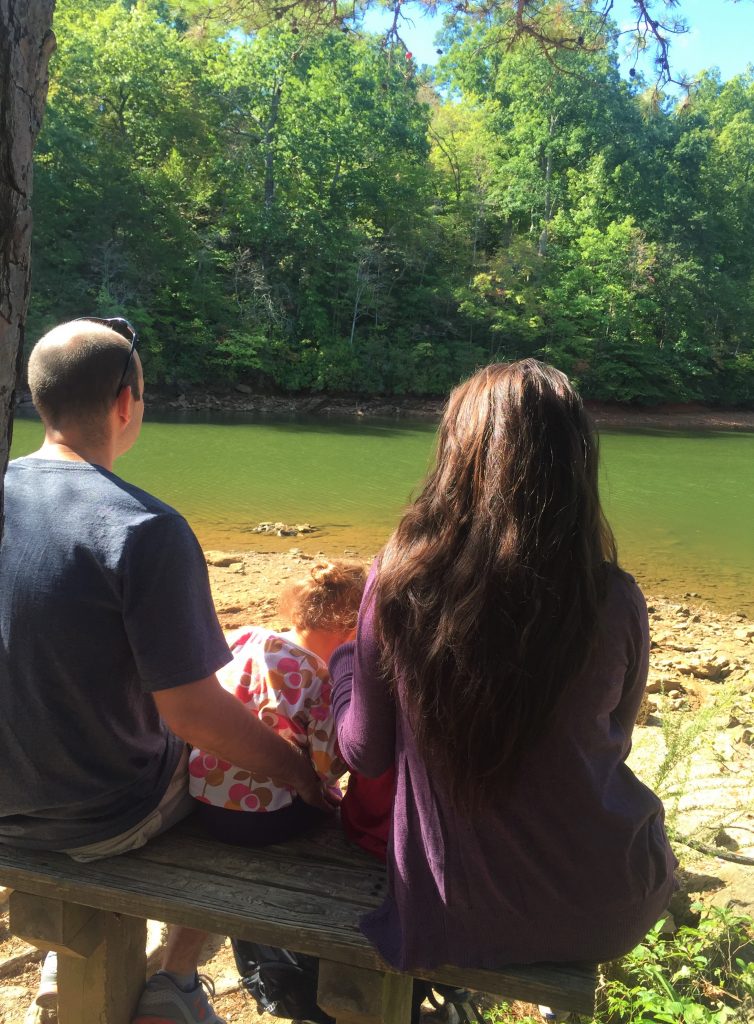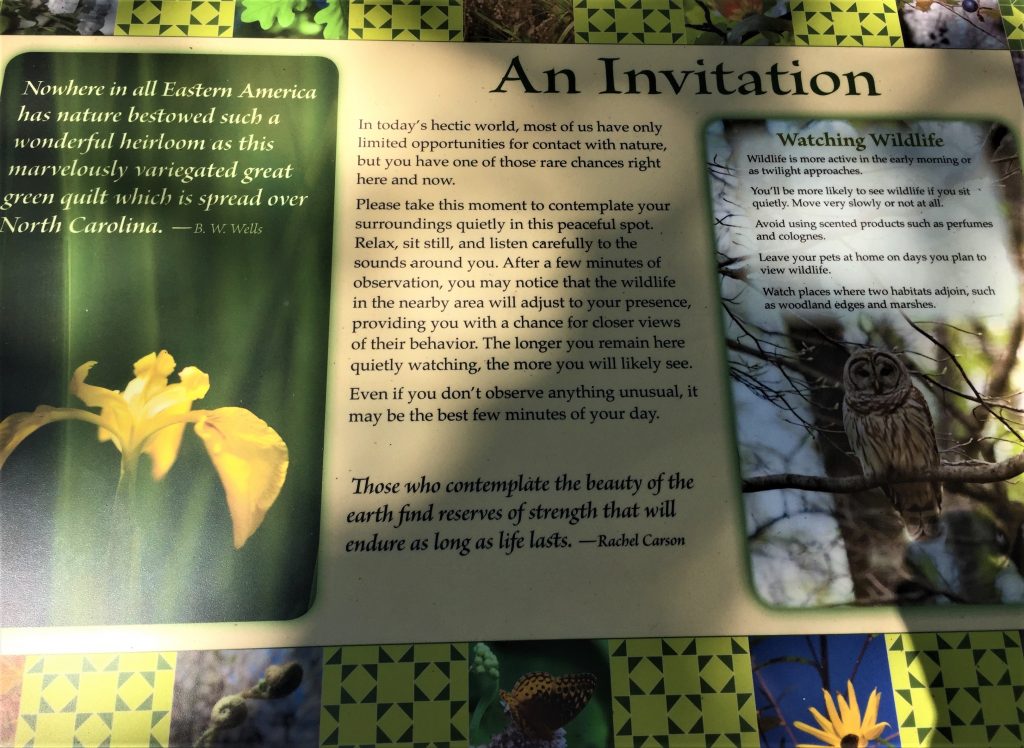 Right before the end of the trail there is a wooden observation area where you can read about the fish and plants that live in Lake Norman and most of the time we are greeted by turtles sunbathing on the logs in the water jumping one by one off of them as we make noises. This trail, despite its short length, is very enjoyable and your kids will ask you to bring them back over and over again.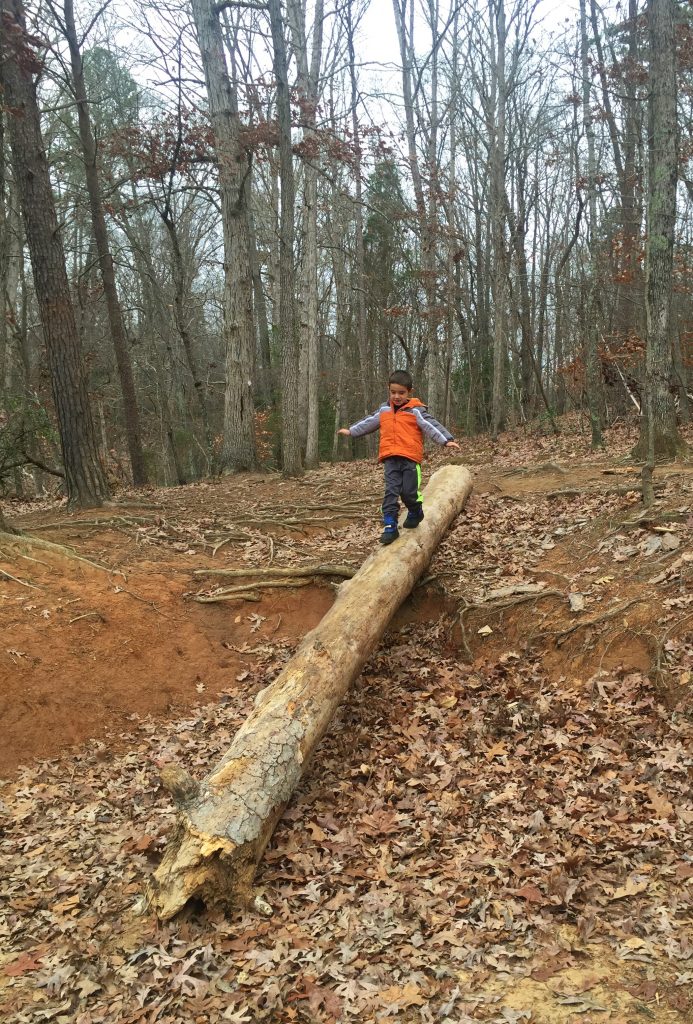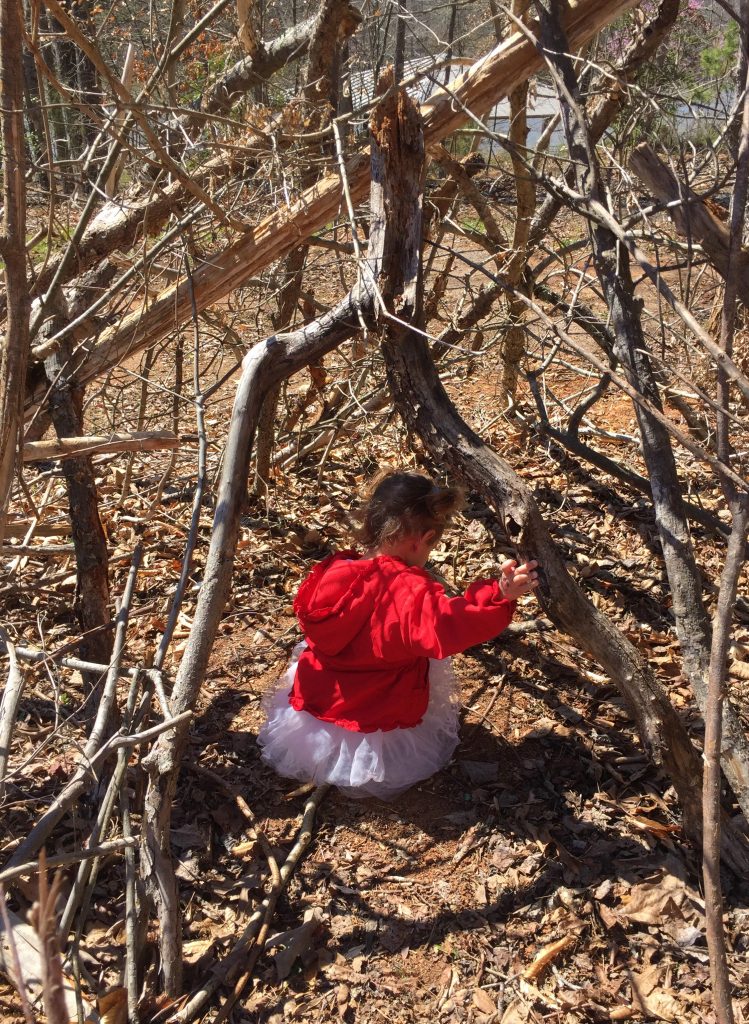 Lately as our littles are at age where they have more patience and can hike longer and on a little bit more "strenuous" trails we've ventured to the Lake Shore Trail which is a 3 mile round trip going in the woods of Lake Norman with occasional views of the Lake, pass windy leave covered paths and wooded bridges. It had now turned into our new favorite trail here as there is always something on the trail to keep us entertained and we've gotten lucky few times timing it right and arriving at the trail when the tide is low and we can actually venture into the lake and have found few tiny islands to explore. Our kids always look forward getting to this part and seeing what kind of treasures they come about while exploring.
There is an extension to this trail which makes it about 6.5 miles long. We've done it without kids and love it, but unless your littles are used to and have hiked longer trails we would suggest keeping on to the short ones with them.
Unfortunately there is no swimming in Lake Norman allowed other than the designated beach at Ramsey Creek, but you can always rent a kayak, canoe, paddle boat and paddle board at the Visitors Center and go on the lake. Fishing is always fun and you can find crappie, bluegill and perch, catfish, as well as striped, largemouth and spotted bass here.
There is family camping as well as tent and trailer sites available. You can find more information on dates, campsite and amenities
here
.