Of the 4000 caves in Virginia, Luray caverns is the most known and most visited one in the state. According to a study done in 2018, more than 500,000 guests visit this popular destination each year.
Luray Cave and caverns are located just west of the town of  Luray, Virginia a little over an hour drive from Washington DC, Charlottesville, Virginia and a short drive to the Shenandoah Valley where you can find plenty of opportunities for exploring and hiking with great views. 
Luray Caverns were first discovered on August 13, 1878 by five local men, including Andrew J. Campbell, his 13-year-old nephew Quint, and local photographer named Benton Stebbins. They initially noticed protruding limestone outcrop and a nearby sinkhole noted to have cool air seeping from it that grabbed their attention.
Visitors can purchase their tickets at the Luray Caverns Visitors Center and wait until the time for their tour.  There is a little coffee shop at the building where visitors can also buy refreshments and snacks. Headphones are given to the guests as they proceed to enter the cave via a path that waves downward through the caverns, eventually reaching Dream Lake, The Saracen's Tent, The Great Stalacpipe Organ and some large stalactites and stalagmites. 
The actual distance needed for the audio tour through the caverns is about 1.5 miles long and can be completed in 45 minutes to 1 hour. However if you choose to engage with human tour guides along the route, that time might be extended.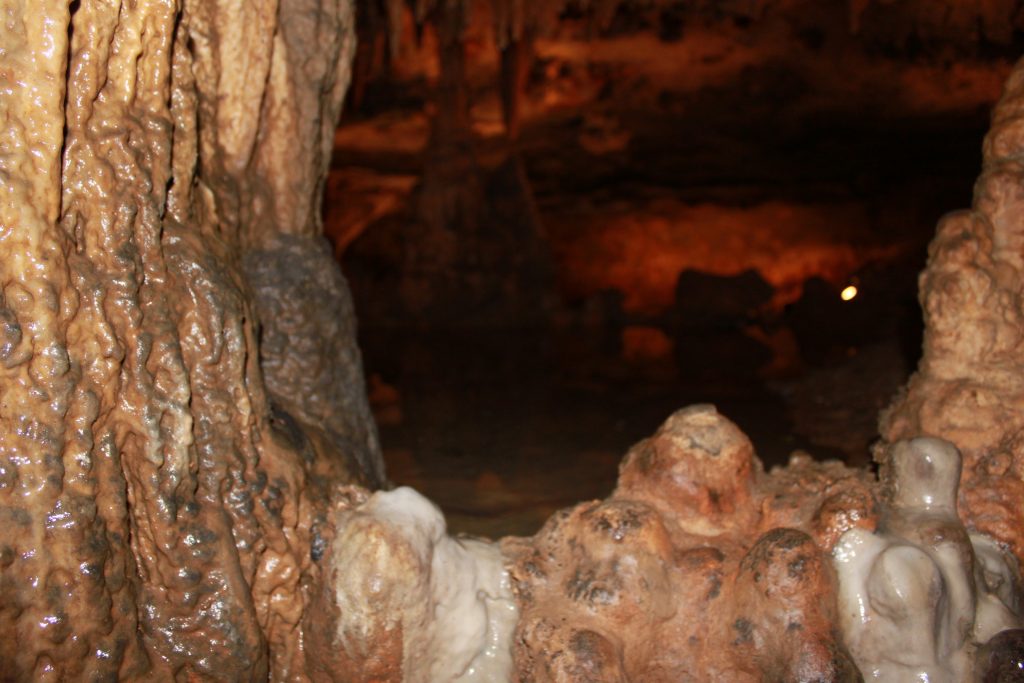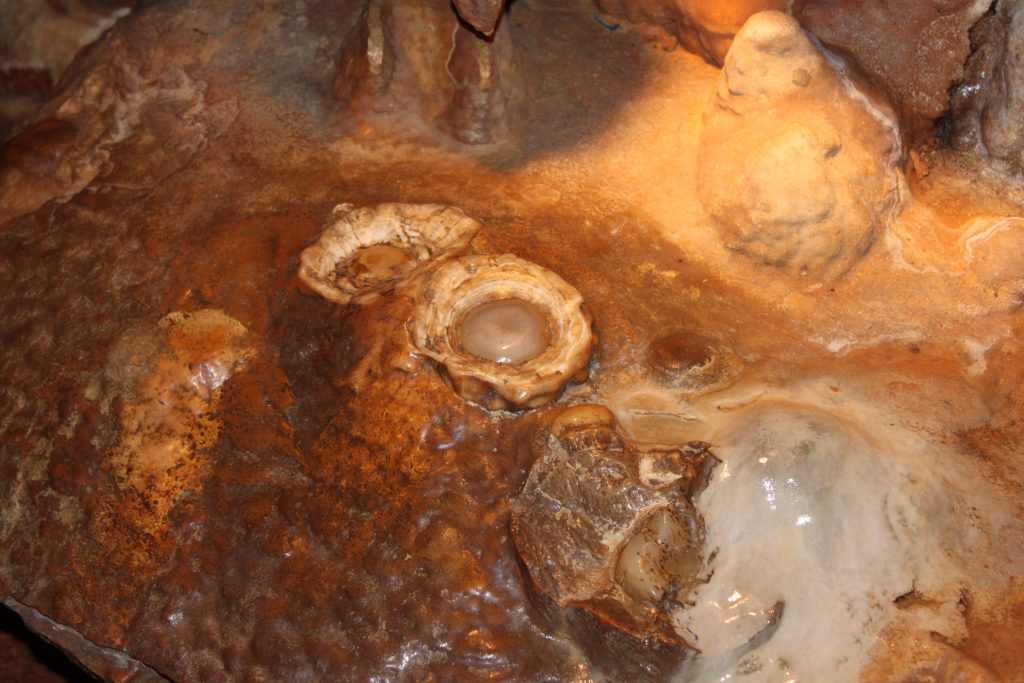 The path along the caverns, narrow at times, continues to the Wishing Well and a war memorial honoring veterans from Page County. From there it proceeds to a small passage past the Fried Eggs Rock Formation and returns to ground level through a smaller passage to the entrance. There are many steps into and out of the cave, but the tour is generally flat trek on a well maintained paved path, with a few spots of incline and some stairs throughout the caverns.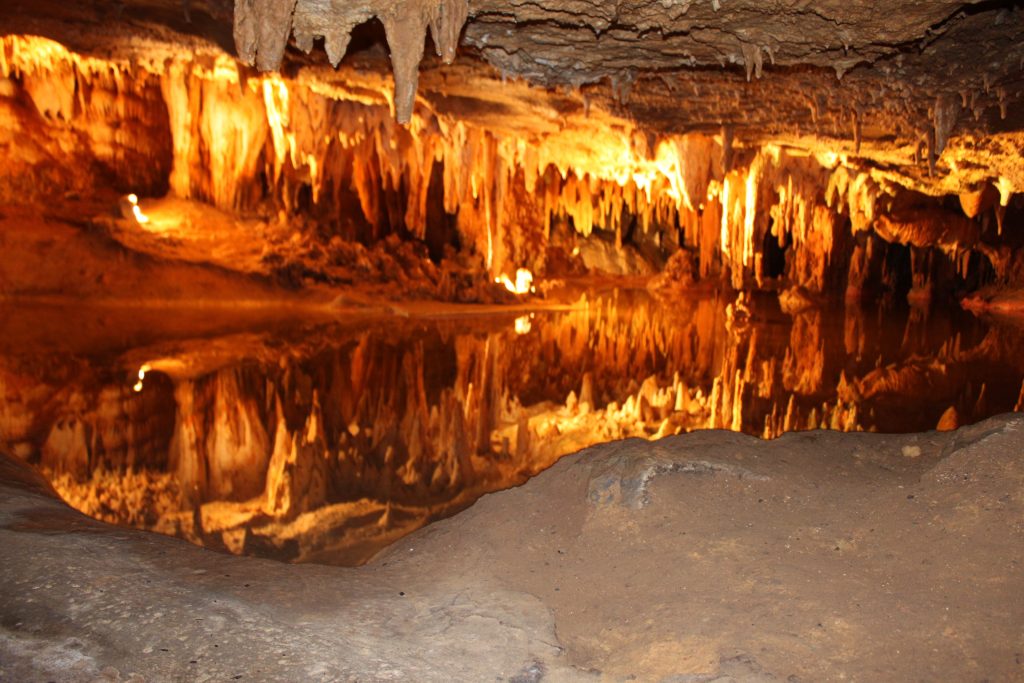 The impressive almost mirror-like appearance of the Dream Lake that's made of shallow spring water gathering between the rocks reflects the stalactite formations above it, creating a cool mirror effect and is the largest body of water in the caverns although not the deepest as even at it's deepest point the water is only around 20 inches deep despite it's appearance. Stalactites are reflected in the water making them appear to be stalagmites. This illusion is often so great that people are unable to see the real bottom.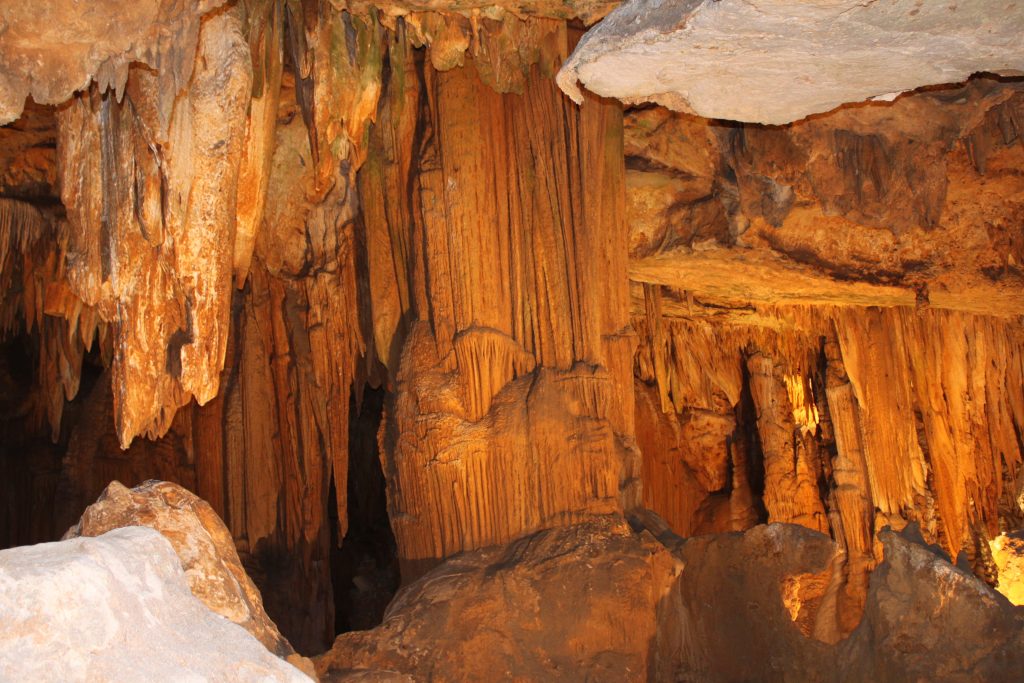 The colors in Luray Caverns are yellow, brown or red because of water, chemicals and minerals. After the water had been mostly removed by a lowering in the water table, these eroded forms remained and growth began to take hold via stalactites, stalagmites, columns and more. The new stalactites growing from the old, and made of hard carbonates that had already once been used, are usually white as snow though often pink or amber-colored.
The Flowstone draperies are abundant throughout the cavern and the visitors can see the best example of them when approaching the Saracen's Tent. This drapery formation can be found in all major rooms of the caverns and ring like bells when hit heavily by a hand. Sixteen of these alabaster scarfs hang side by side in Hoveys Balcony, three white and fine as crape shawls, thirteen striated like agate with various shades of brown. Their origin and also that of certain so-called scarfs and blankets is from carbonates deposited by water trickling down a sloping and corrugated surface.
Some of the most notable formations inside the caverns include the Leaning Column, undermined and tilting like the campanile of Pisa and the large shield formation known as the The Great Stalacpipe Organ which was used from very early age as an instrument for a variety of folk and religious songs.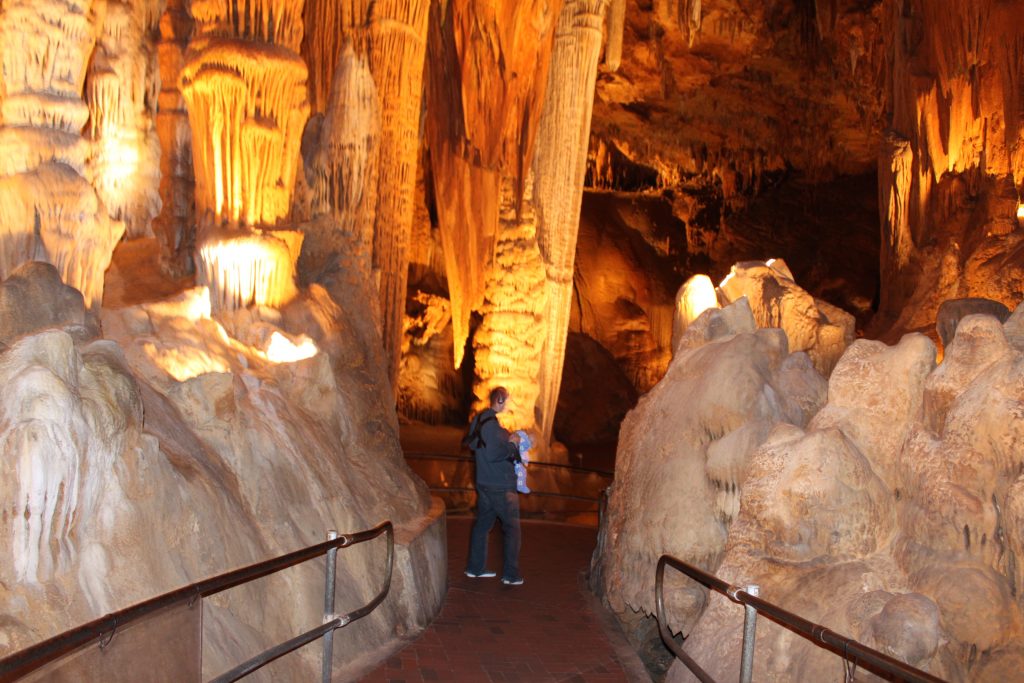 Some of stalactites in Giant's Hall exceed 50 feet in in length. The Double Column, named from Professors Henry and Baird, is made of two fluted pillars side by side, the one 25 feet the other 60 feet high, a mass of snowy alabaster. The Empress Column is a stalagmite 35 feet high, rose-colored, and elaborately draped. The cascades are formations like foaming cataracts caught in mid-air and transformed into amber or milk-white alabaster. The brands Cascade stands at 40 feet high and 30 feet wide, and is a wax-like white.
The green Wishing Well just like the Dream Lake gives the illusion however in reverse as the pond looks three to four feet deep, but at its deepest point in fact it is actually six to seven feet deep and full of coins that could be found as deep as three feet at the bottom.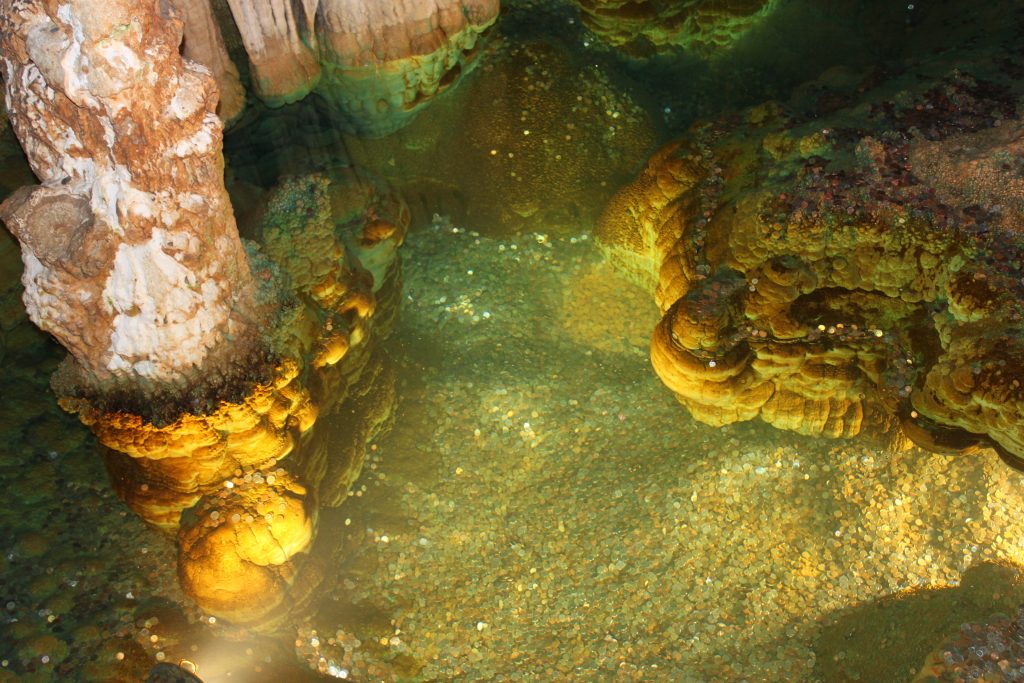 The quantity of water in the cavern varies greatly during different seasons which allows some stalactites to have their tips under water long enough to allow tassels of crystals to grow on them, which, in a drier season, are again coated over with stalactite matter. The temperature in Luray Caverns stays in the low 50 F degree range in all seasons, even if it's a toasty 90 degrees or a chilly 32 degrees outside, so make sure to dress up properly and bring an extra layer if you get cold easily.
Luray Caverns are open daily from 9 a.m to 4 p.m. all year round. Guided tours depart about every twenty minutes and last about an hour. General Admission includes Luray Caverns, the Car & Carriage Caravan Museum, Toy Town Junction, and the Luray Valley Museum. A ticket for adults costs $30, children are $15 and Seniors are $27. There are multiple ways to get a discount tickets and you can find all the details on how to do so here. For list of events check their page here.