May might simply be my favorite season. And not only because its our baby girl's birthday month but also because it's the start of the warmer weather where we can actually go out and enjoy our days without our fingers freezing.
It was on a late May day when while changing the clothes in our daughter's closet as I do twice a year, I pulled out the prettiest dress all covered in strawberries. And as my thought process works I instantly thought of how cute she would look in this dress while actually strawberry picking at a farm.
After a short search I found what looked to be the perfect spot. The Pickin Patch at Woodford Farm in Avon Connecticut.  The farm Just a short drive from our home and offered exactly what we were looking for. I put the mentioned dress on our daughter and packed her and her brother in the car. Finding the farm was as easy at it gets. Plenty of parking and friendliest staff there to help us and answer all the questions we might have. It was our first time strawberry picking so we had a lot of them.
We started our adventure at the cute store at the front of the farm where we picked the size of the basket and headed to the strawberry patch for the juiciest strawberries we've seen in a long time. Not sure how many of them ended in the basket and how many were actually eaten right there at the spot, but couldn't necessarily blame the littles since I myself was tempted to devour them as soon as my hands reached for them.
Although we went later in the afternoon and could tell that there have been many people already gone through the vines there were plenty of strawberries left for us to pick. The kids had a blast and I thoroughly enjoyed the experience especially since you don't get to do strawberry picking with  views like the ones that the Pickin Patch has. The skies were so clear that day and the hills and Heublein Tower behind it were spectacular.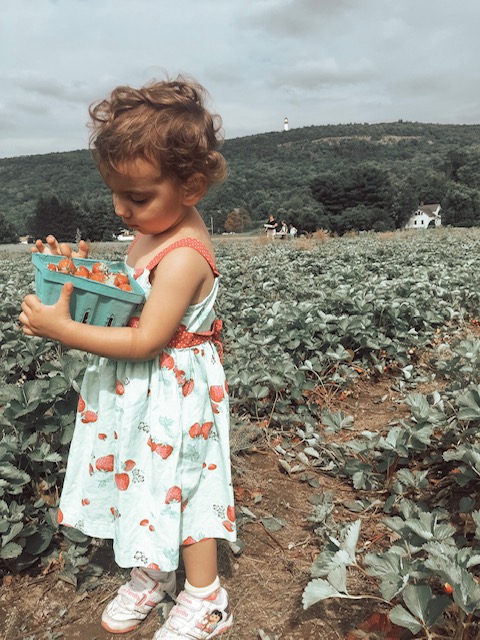 Back at the the country store we enjoyed a lovely conversation with the lady behind the counter and learned that the The Pickin' Patch is one of Connecticut's top 10 oldest continually running farms. Over the years The Patch, along with 300 other nearby farms, has evolved from a dairy and tobacco farm to a pick your own small fruits and vegetables farm, as well as a garden center.
You can find the farm here: