As we usually do on Sunday mornings while lying in bed with coffee in hand we try to look at the weather for the week ahead and map out a plan of activities to do with kids. Most of time the forecast is pretty nice and we can squeeze few days at the park (check out the list of all of our favorites here) but to my surprise the week ahead this time looked pretty crummy so we set on trying to figure out places in and around Lake Norman where we can bring the kids to exert energy while having fun and staying dry. Here is an agenda of few of our favorites!
#1 Discovery Kids, Huntersville NC
Discovery Kids Museum in Huntersville has to be number one on our list while thinking of fun places to go. That would be the first spot our kids would think of when we ask them where would they like to go when we are heading to an indoor place.
This museum is suitable for ages 0-12 in our opinion. There is a lovely always clean area right behind the corner from where you pay to enter for children 0-3. A huge climbing structure is located in the center of the museum on the first floor with slides and tunnels kids can slide and crawl through. Train table, water play, art room, underwater room with submarine and a boat, kitchen room, exercise room with climbing wall, doctors office, farm area, veterinary cabinet and store as well as a costume, science and puppet show platform are located on the first floor. Second floor has a make your own car with trek, LEGOs, airport and blocks centers.
The museum is open daily except on Mondays and offers a variety of summer camps, educational classes, exhibitions, daily shows and accommodates birthday parties.
It coast $11 for adults and children over the age of 1 to visit the Children's Museum. Children under the age of 1 are free. We highly recommend looking into purchasing a membership is you are planing on coming more than once as we find it to be worth it. Our kids can spend an entire day here and never get bored.
#2 Spare Time Entertainment, Huntersville, NC
Spare time in Huntersville is the perfect way to spend a weekend day or an afternoon on a rainy day in the Ville. They offer bowling, arcade, games, laser tag and their newest escape room is the bomb.
Added bonus is: there are food and drinks available for purchase and if you are on a budget they offer half off on Wednesday which makes it the best deal in town on a rainy hump day. Check out their prices, events and specials here.
They are located in Huntersville on 16317 Statesville Road right across from The Taste of Buffalo Pizzeria and are open from 10 a.m to Midnight Sunday to Thursday and 10 a.m. to 2 a.m. Fridays and Saturdays.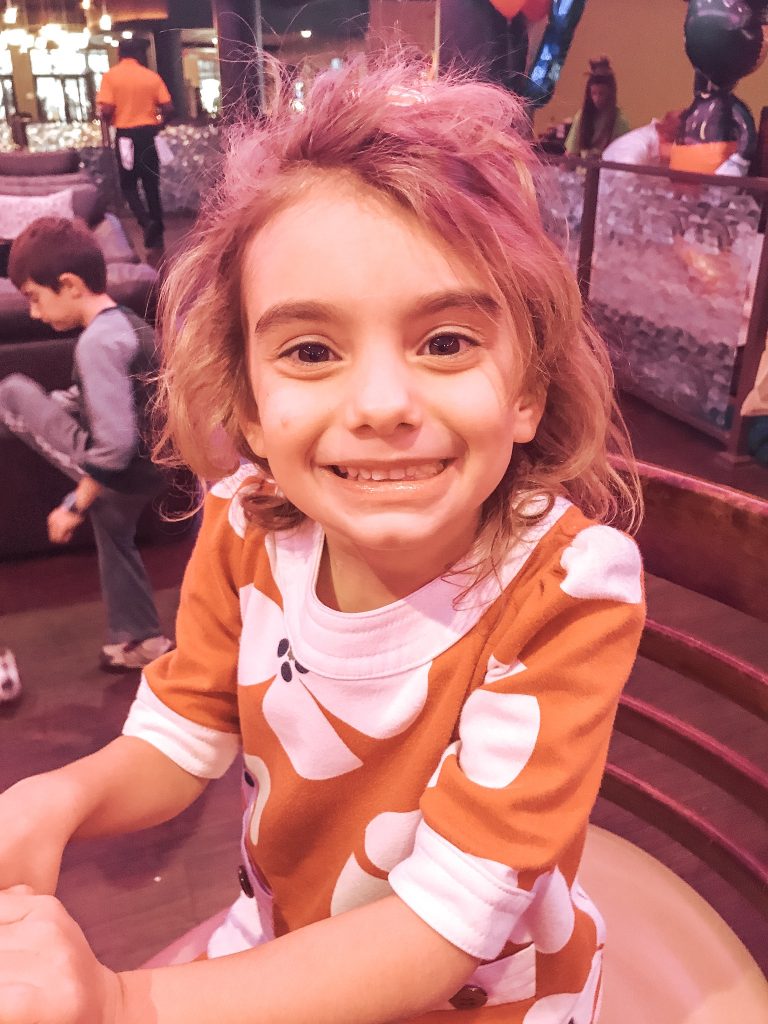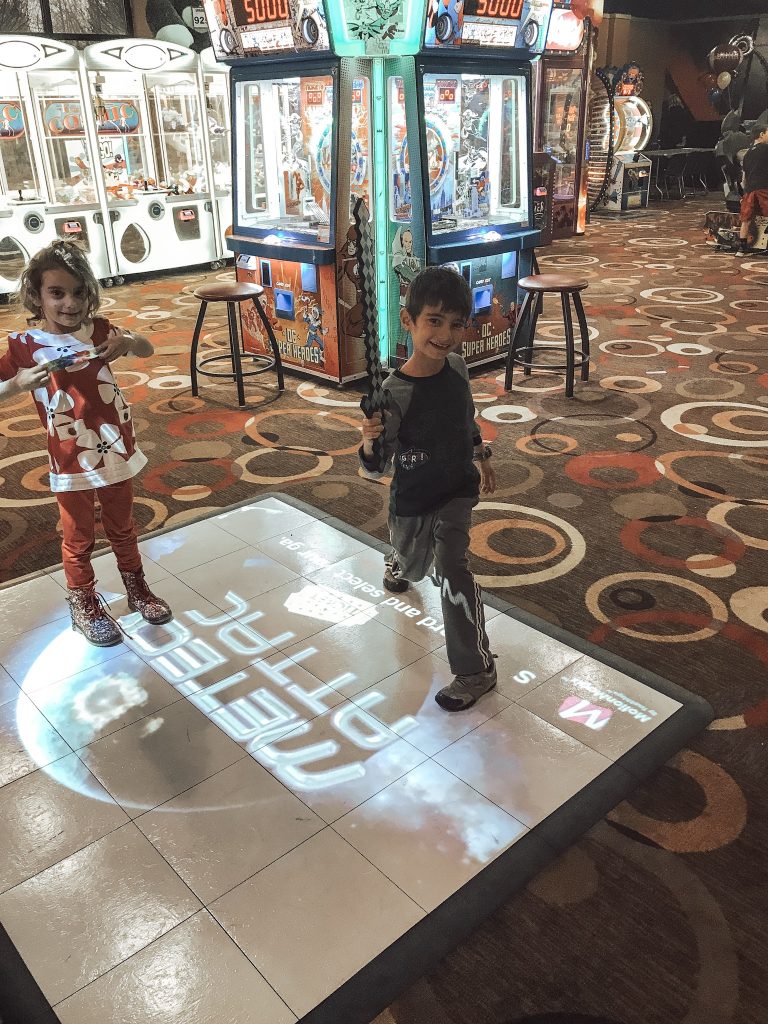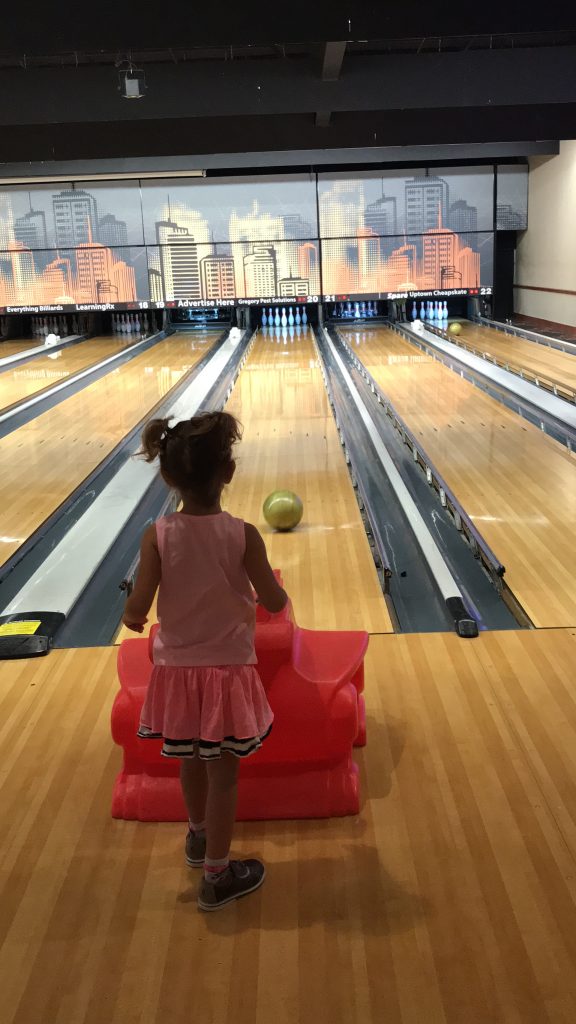 #3 Sports Connection, Charlotte, NC
Sports Connection is a similar to Spare Time with games, arcades and bowling. The difference between these two and our kids favorite part is the Bounce House area. Completely enclosed, very clean and always well taken care for this area is the perfect spot to let the kids run off all their energy while sitting in your chair supervising them with a cup of coffee.
Sports Connection offers birthday parties packages, summer camps, sport rentals, games and attractions and adult activities. You can find a list of all they have to offer and pricing here.
#4 BounceU of Charlotte
And while we are on the bounce house train we have to mention BounceU of Charlotte. This spot is one of our favorites to get the energy out on rainy days and the kids always have a great time here. The stuff is extremely interactive and engaging with the kids and changing the rooms every half an hour makes it more fun for the kids.
BounceU offers all kind of events and camps. We love going for their pajama morning and to the Cosmic Bounce. A list of their prices and happenings can be found here. They are open all week with open bounce hours throughout the day which would give a chance to come visit whenever convenient for you. It is located on 10624 Metromont Pkwy Ste 300 in Charlotte, NC just across the Huntersville line.
#6 W8less Trampoline Park, Cornelius, NC
Trampoline parks are our kids absolute favorite places to burn off energy and not only on a rainy day. We probably go to w8less at least several times a month and it never fails to amaze me how much energy our kids have and how easy it is to tire them up at this spot. They love the ninja course and the doggeball area as well as the trampolines and the soft foam cubes jumping area.
W8less is open daily daily and offers birthday party packages, camps and open play hours. A list of events and prices can be found here. The trampoline park is located at 10442 Bailey Rd Suite A in Cornelius, NC.
#7 Go out on a Donuts Date/Duck Donuts
Nothing better on a rainy day than warm, delicious and made-to-order donuts to warm up your soul. We absolutely love going on a donut date and choosing a new flavor every time. Than finding a nice seat by the window and watching the rain drops falling down while sipping on a delightful coffee and chatting about everything that we have in mind that day. It's one of our favorite traditions and nothing makes your children open up and talk about things they won't usually find the time to tell us as we rush around and go about our busy day.
Duck Donuts in Huntersville, NC gives you a Duckzillion Flavors and endless combinations to try made right in front your eyes always fresh and warm, delicious, and just the way you like them.
You can find them at 9931-C Rose Commons Dr in Huntersville, NC.
#8 Ice Cream Date/ TCBY
Another favorite spot on a rainy day where we can have a treat and get to talk to each other with no interruptions is TCBY in Huntersville, NC located right across Duck Donuts.
The Country's Best Yogurt is colorful and clean and the variety of ice cream flavors and toppings is always something our kids look forward. Their interiors and brand reflects the forward-thinking outlook on the future with a modern brand and logo, colorful palette and chic interior decor and they are committed to offering nutritional benefits as well as great taste.
#9 Treat Your little Ones to a Mini Pedi 
There are so many spots in Lake Norman where you can take your little ones and treat them to a special date while you are also treating yourself. It's sure to delight them and to leave them with a lasting memories of this special thing you shared together. Not to mention them showing off there sparkly freshly done nails to all of their friends and telling them all about there new favorite thing they did with mommy.
#10 Barnes and Noble
Barnes and Noble is not only a book store although our kids love to go there and read books all day, but they also have so many events catering to children of ages and all of them pretty cool. You can find a list of all of them here.
The store is a great place to spend few hours while looking to get out of the house on a rainy day. Even if the events don't fall at a time that works for you you can sill bring the kids for a play at the train table or a treat at the coffee shop while browsing to books that they like.
Barnes and Noble is located at 8725 Townley Rd. in Huntersville, NC.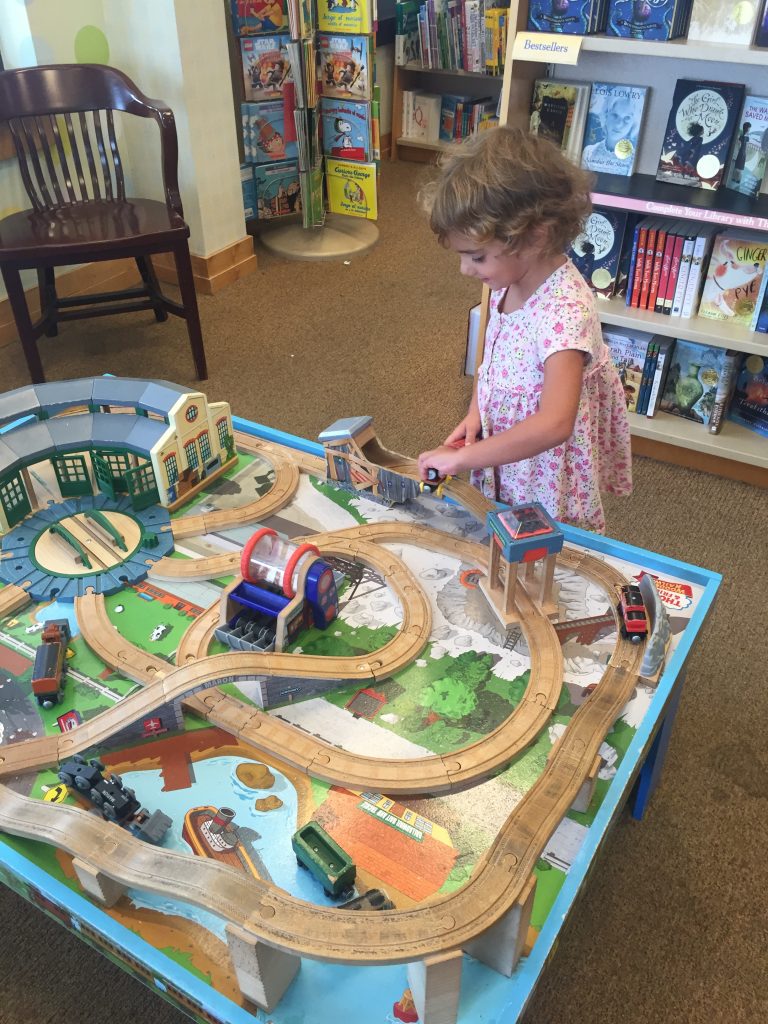 #11 See a Movie 
Nothing like a movie day on a rainy day with some delicious treat. The Regal Theater in Birkdale has multiple screens featuring new release films, plush seating & concession stand. Its open 7 days a week and offers a great variety of movies sure to accommodate any taste and liking.
#12 My Gym Open Play
My gym located on 16610 W Catawba Ave. in Huntersville, NC is a great spot to take the kids for an hour to burn off some energy. They have few days of the week where they offer open play. Currently enrolled members can attend all Practice and Play times weekly and don't need to pay to go and take advantage of it or you can pay as you go. It costs $9.00 per child/per Practice and Play and they attempt to have approximately 5 Practice and Play times on their schedule weekly to choose from. Space are limited to 15 paid spaces, reservations are first come, first serve.
#13 Chuck e Cheese
The american family entertainment centers and restaurants chain is so much for kids that they'll be begging you to bring them back there again and again. Arcade, rides and games as well as great Birthday Parties are just few of the things you can enjoy here.
Chuck E Cheese is located on 7970 Lyles Ln NW in Concord, NC and is open daily from 11 a.m. to 9 p.m. except for Friday and Saturday when the business is open from 10 a.m. to 10 p.m.
#14 Defined Coffee, Huntersville NC
This coffee shop located in Huntersville, NC offers not only the best available coffee from around the world harvested at small farms and meticulously roasted in Charlotte, but also boasts a state-of-the-art coffee bar, free Wi-Fi, expansive indoor and outdoor seating, modern conference rooms, convenient parking, and a special place for your kids to play. Conveniently located at 8519 Gilead Rd in Huntersville, NC this coffee shop is the perfect spot to come enjoy some of their hand-crafted drinks and take a breather while the kids play.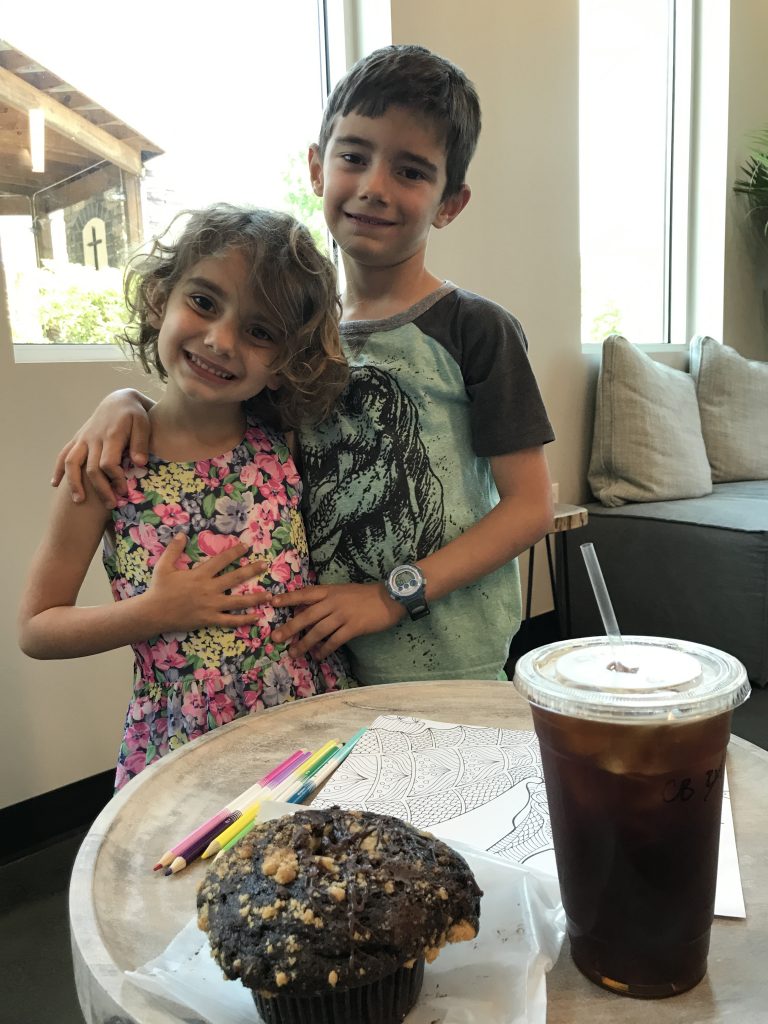 #15 Latta Plantation Nature Center
Latta Plantation Preserve has so much to offer both inside and outside. Their interpretive center, with native animals, the habitat garden, outdoor amphitheater and gift shop are the perfect spot to spend an hour or so on a rainy day visiting with the reptiles and coloring or playing at their interactive center.
The Nature Center is located at 6211 Sample Rd in Huntersville, NC and offers a wide variety of event for kids of all ages and adults. There is something for everyone here. Latta Nature Preserve is a source for educational programs and information on the preserve's natural communities, flora, and fauna and a great resource for nurturing kids natural love for animals and nature.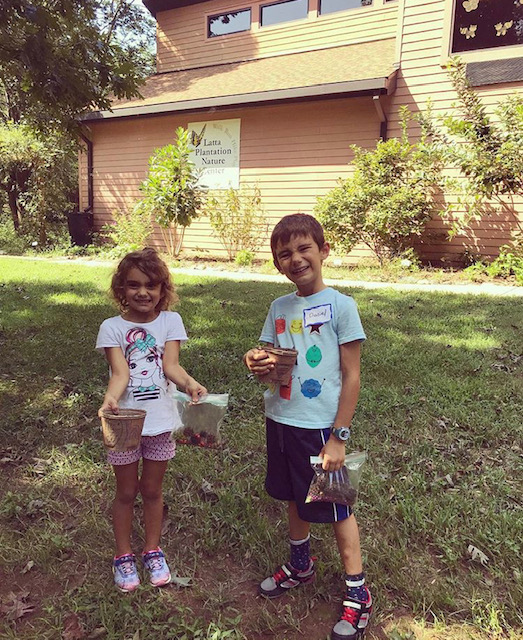 Latta Plantation has a long list of trails and events you can choose from. And if you find yourself at their Nature Center and the rain stops for a moment make sure to check the little garden and natture  playground just nehin
#16 Visit the library
A local library is always a great resource and a lovely way to entertain the kids for several hours. All of them have programs pretty much every day and for all ages. Not to mention the benefits of either you reading to your kids or them picking up a book and reading it themselves.
I have to admit we go to the local library  pretty much every day. We go for their Yoga class on Mondays and to Read to Paws program on Mondays and Wednesdays. On Tuesday we visit for the Early Readers Books club and they usually have some other program we do to on Thursdays. Friday we like to just read and play and there is an event again almost every Saturday for the kids to enjoy.
#17 Davidson Play House
Davidson Play House is located on 228-A Caldwell Ln in Davidson, NC and is open Daily from 9 a.m. to 1 p.m. except on Sundays. It is a wonderful sanctuary for parents, grandparents, caregivers and their children providing sensory play in a safe, clean and fun environment. There is always something going on at the House. They offer several levels of memberships, a diverse variety of classes, story time, and even summer camps and cater to all children through age 7.
#18 Frankie's Fun Park
The newest arcade and bowling center in Huntersville, NC is located at 10621 Bryton Corporate Center Dr. and is open daily from 10 a/m to 11 p.m. They offer bowling, Dark Ride, Discovery Ride, Mini Golf, Fun House, Arcade, Laser Tag, Swings, Tea Cups, Drop Zone, Slick Track, DISK'O, HOLOGATE and Bump Cars. The Frankie's Café offers a wide range of delicious options to include Pizza, Salads, Burgers, Wings and so much more all created by their Chef and the Fun House can entertain your kids for hours.
#19 SEA LIFE Charlotte-Concord Aquarium
The interactive aquarium located at the Concord Mills mall in Concord contains thousands of aquatic creatures, various kinds of fish, glowing fish, sea horses, sea creatures and sharks plus interactive touch pools and a 360° ocean tunnel. They offer Feeding Demonstrations, Aquarium Exhibits, Yoga with SweatNET Charlotte, Behind-the-Scenes Tour, Birthday Parties Packages, Sensory Friendly Sundays, School Field Trip Tickets, Homeschool Ticket Mondays and Toddler Tuesdays where parents can take advantage of a great deal if they are planing a visit with young children.
The Aquarium is open Mon-Fri. 10AM-6 PM; Sat. 10AM-8PM; Sun. 12-6 PM. and a list of their prices can be found here.
#20 ENJOY THE RAIN
Last but not least ENJOY THE RAIN. There is no greater joy for kids than jumping and  splashing in puddles not to mentioning the benefits of getting muddy. Mud Play is important for children to develop and practice their fine and gross motor skills, increase awareness of their senses, particularly touch, improve hand/ eye coordination and develop their social and emotional skills, including taking turns and leading/following directions.
Rain Play helps with a child's motor skills and balance ability. They will get the chance of investigating, exploring, and enjoying the slippery world. This has a different set of physical challenges from a dry world. When they are playing in the rain it helps them connect with all the weathers nature has. So get outside, get wet and leave your worries inside.
Here are few more ideas of things to do if you are stuck in your house on a rainy day:
Indoor Treasure Hunt. Hide things around the house for your children to find.
Indoor Camping. Build a pillow or blanket fort and do fun activities inside them.
Paper Airplane Launcher.
Cardboard Tube Marble Run.
Plastic Bottle Bowling.
Bean Bag Toss.
Tornado in a Jar.
Homemade Sensory Bin.
Take a Bubble Bath
Lay a blanket on the floor and have a picnic
Read stories
Movie Day with hot chocolate and popcorn
WE hope you find this ideas helpful and enjoy the rainy days ahead. Let us know if YOU have a favorite rainy day activity and we'll make sure to add it to the list and don't forget to share yours rainy day pictures with us. We would love to see all the fun you are having!