The settlement of Fonta Flora was flooded in 1916 by Duke Energy to create Lake James In Nebo, North Carolina and was discovered by a scuba diving team many decades later. Making a deal with NCDPR to sell undeveloped land around Lake James for an expansion of Lake James State Park, Duke Energy's Crescent Resources offered trail easements for the Overmountain Victory National Historic Trail on their properties and an opportunity for developing a loop trail that would go around Lake James, which would connect the state park properties, the Overmountain Victory Trail, and new local parks along the lake.
The Fonta Flora Trail that was recently open to the public is located on 126 NC-126 in Morganton, NC and as of right now offers 19 miles of hiking and mountain biking trails although the trail is planned as a continuous route for hikers and cyclists from Asheville to Morganton with a loop around Lake James.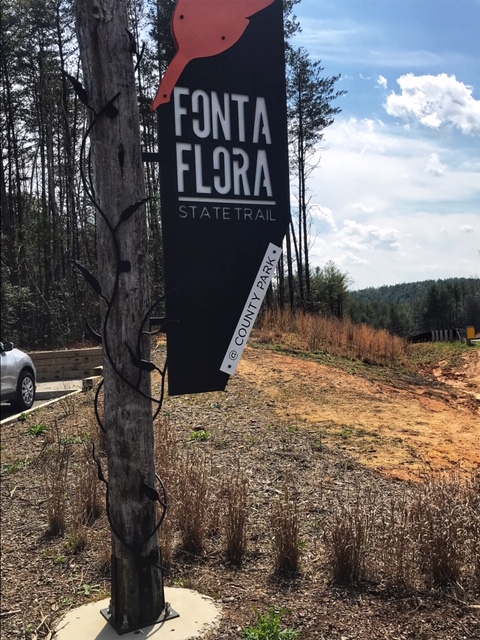 Limited parking on either side of the Trailhead to the Fonta Flora Country Park is available as of right now with land still being cleared near the entrance of the park for potentially building more to meet the demand of visitors as the popularity of the trail grows. 
Plans for the 90 acres of conservation land are for more parking, playground, disc golf course, observation platform, deep water launch, picnic shelters and much more to be build. Large map located right by the entrance of the park shows all the trails available and their length. Bathroom facilities are located right by the parking lot for easy access equipped with water fountains. A small water fountain is located by the bathrooms for dogs. Dogs on a leash are allowed on the trail.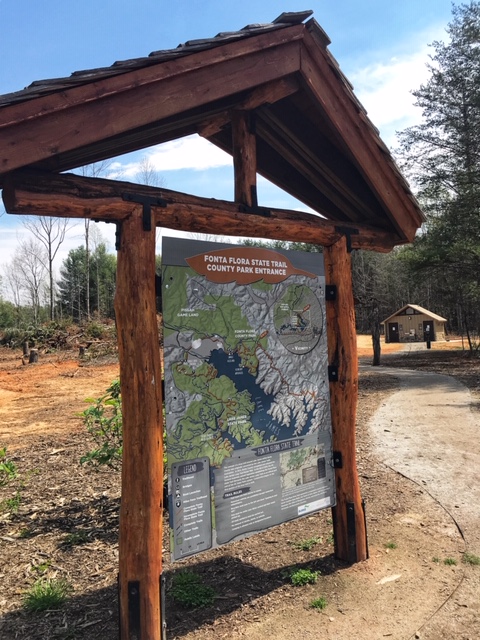 A large portion of the trail snakes up and down through an extensive pine forest, frequently dipping down near the lake with some partial views of Lake James behind the tall trees, pass handcrafted wooden footbridges, with not much elevation gain which makes this trail perfect for all levels of hiking experience. Kids will thoroughly enjoy this trail as it will remind them of a favorite fairy tale.
The trail is well maintained and marked and very well taken care of during all seasons. Although muddy after a hard rainfall the wooden sticks strategically placed along the path make for easy and safe crossing and makes for a great experience while cycling on the trail. 
There are several spots where the path leads to a beach where visitors can take a break while marveling at the spectacular views. Wooden benches are placed near by for comfortable sitting. These would be a great place for a snack and water break or for a picnic if you brought one with you.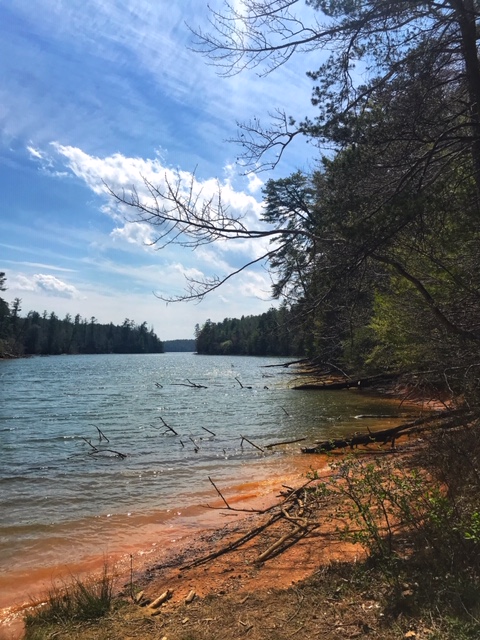 The path through the deep woods eventually brings you to an opening where you'll walk close to the edge of a cliff for a short while high above the lake offering spectacular views of the Shortoff Moutnain and the southern ridges surrounding Linville Gorge. Make sure to take a seat on one of the two benches that you'll pass and enjoy the scenery. It's rare that views like this reveal after such a short non-strenuous hike.
Continue on the path for some time more and you'll reach what might be your new absolute favorite beach-side spot. You'll come to a little beach surrounded by marvelous views with wood logs washed off shore perched all over the sand beach perfect for sitting and a rope swing for your littles to enjoy. We spent hours here and if it wasn't for losing day light and having to get back to the car we could've stayed here forever.
We started slowly making our way back and made sure to relax on the bench and enjoy the stunning mountain and lake views by the cliffs one more time before heading to the thick pine forest looking for some shade and cover from the hot setting sun. 
The walk back was equitably enjoyable casually walking over the fairy tale footbridges and the carpet of pine needles while surrounded by the massive pine trees hovering over us like giants, talking about the flora and fauna of what surrounded us and looking for the family of white tail deer that crossed our path earlier in the day.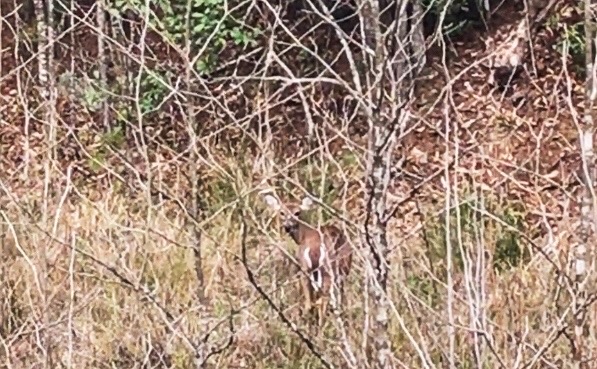 It's easy to say that was one of our absolute favorite newfound hikes in Burke County as well as North Carolina in general.  If you're looking for the perfect post-hike refreshing drink, head up the street to Fonta Flora brewery at Whippoorwill Farm for the perfect end to the day.  The Hop Beard IPA is my personal favorite!