Nestled deep into the Yadkin Valley wine country lies a hidden gem that has quickly become our favorite winery in the Elkin, North Carolina area.  Grassy Creek Vineyard & Winery, located at the aptly named Tasting Room Drive, is a family friendly vineyard that offers amazing beauty, delicious wines and an experience that is well worth the trip.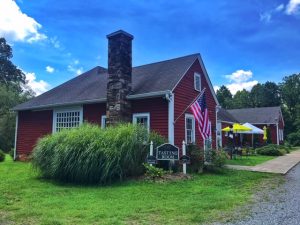 Located just over an hour's drive north of Charlotte, lies this vineyard with a deep and storied history.  The current owners and family treat each customer as if they are part of the family and are eager to share the property history and a welcoming glass (or bottle) of wine.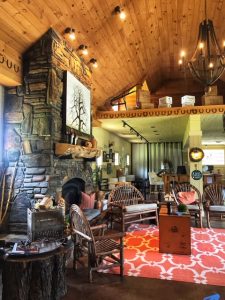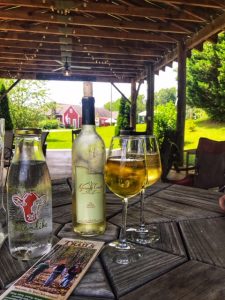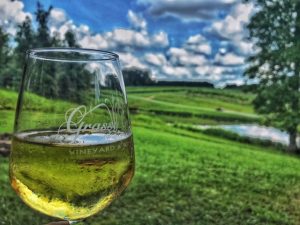 If you're looking to make a day out of it, there are several options for extending your stay or adding a hike to or from the Vineyard.  The Grassy Creek Trail begins right outside the tasting room's entrance and winds for a half a mile until it connects with the famous mountains to sea trail.
You can then take a right to head to Byrd's Branch Campground.  Just before the campground you will enter a section of the trail called the Enchanted Forest, which has interactive creatures that will intrigue adults and children alike.
Be sure to stop for an ice cream at Byrd's General Store before continuing on to scenic Carter Falls.  Continuing on the trail behind the store, you'll reach the Carter Falls trail-head.  From the campground to the falls is about a 1.5 mile hike.  From Grassy Creek Vineyard to the campground is about three miles round-trip, making the total hike from the vineyard to the falls and back about 4.5 miles.  There are several other parking options if you're looking to shorten or lengthen the hike on the trail system.  The full trail map can be found here.
Bring the Kids
If a several mile hike isn't your cup of tea, bring the whole family and head a short 5 minute walk down the Grassy Creek Trail to the creek from the winery.  There is a small sandy area with benches and a picnic table.  The creek is safe for splashing around on a summer's day while adults can enjoy a bottle of award winning wine.
We rate Grassy Creek Vineyard as the most kid-friendly vineyard in Elkin based on the open spaces, welcoming staff and trails and creek to keep them entertained.