If you are traveling in the Florida Panhandle, or the Gulf Coast of Alabama you don't want to miss a visit to pentagonal historic United States military fort – Fort Pickens, located on Santa Rosa island. Fort Pickens is a ruined 19th century fortification which guarded Pensacola Bay and remained in use until 1947.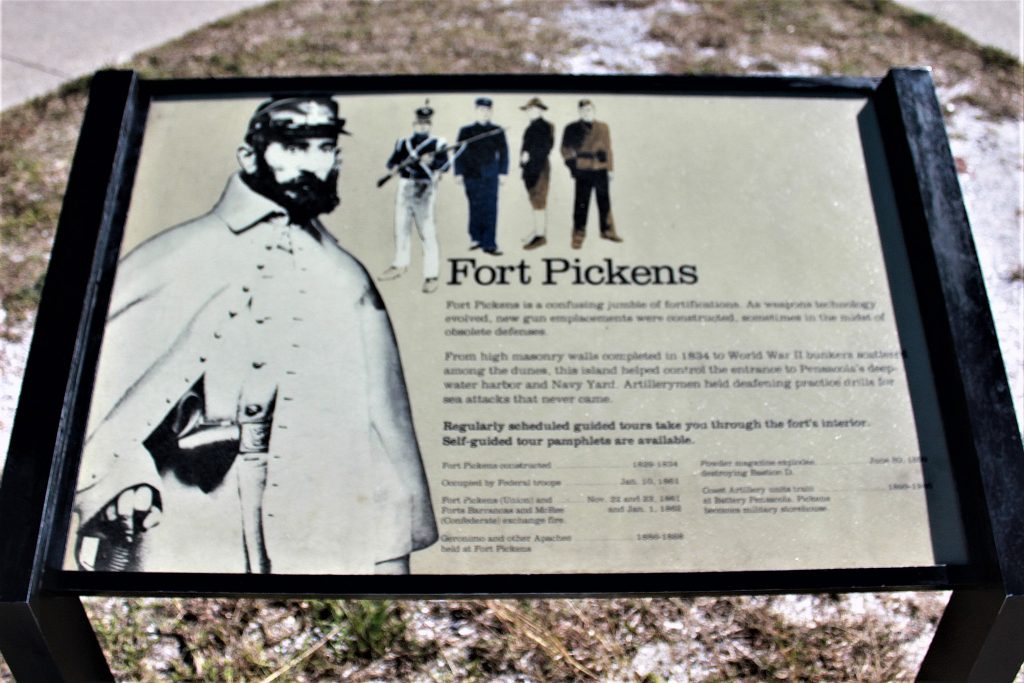 We have visited a great number of National Parks and have to say that this one should be up there on everyone's list as one of the most beautiful and by far the least crowded. The fort was built prior to the outbreak of hostilities during the US Civil War, completed in 1834 and named after American Revolutionary War hero Andrew Pickens.
Visitors can take a walk around the old fort, see some coastal defense batteries built between the world wars, and enjoy a nature trail and the great pristine beaches surrounding the structure that kind of reminds you of the Rome Colosseum a little bit. It will cost you $20 per vehicle to enter the park which also has some real nice bike trails if you brought your bikes. If you have a national park senior pass the entrance for you is free.
We drove to Fort Pickens on an early weekday morning coming from Pensacola where we were spending few days exploring. It's a little over a half an hour drive pass stunning white sand beaches and the change of the flora and fauna in such a short distance is striking. The area is a far cry from the overbuild Pensacola beach-site and a nice relief from the tourists. We heard that after hurricane Ivan went through Florida, the road leading to the Fort was closed for some time and serious renovations had to be done. Some of Fort Pickens was heavily damaged in the Hurricane as well but it is being repaired now and most of it is back to a good state.
Once you get to the gate where you need to pay make sure to ask what time the next Ranger tour starts. Be sure to go on one of this tours which will make your experience ten times more enjoyable! While waiting on the Ranger tour take a seat and watch the video tour which is extremely informative and well worth watching. To be able to take a peek of the grounds throughout the years was astonishing. It helps you make sense of the fort itself as you walk through it.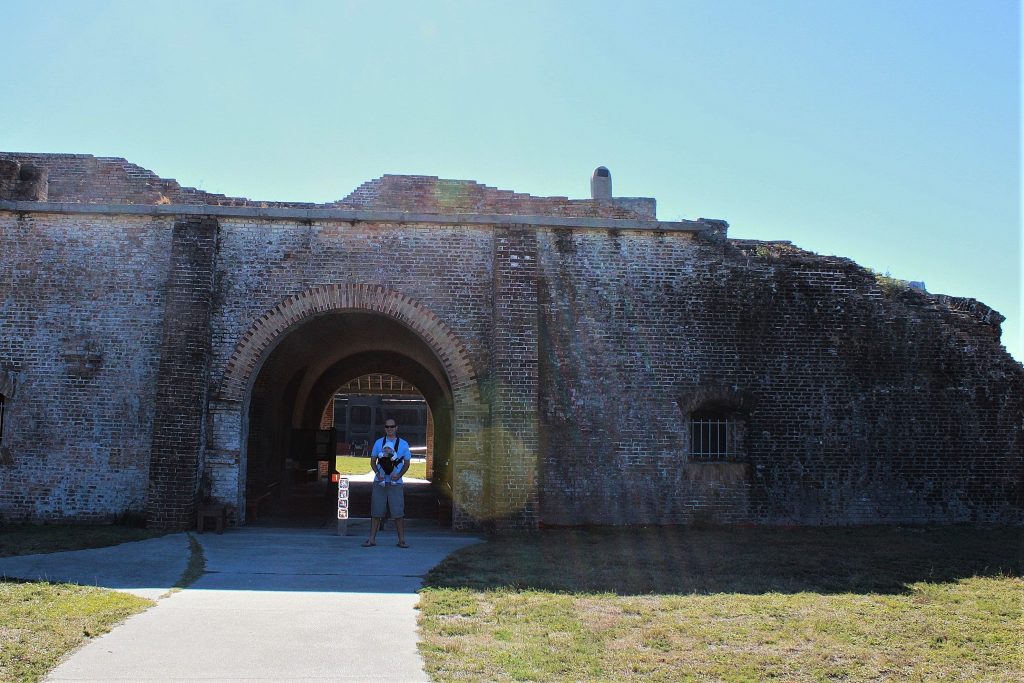 If you just want to go at your own pace and stop here and there as you please you can also take a self-guided tour of Fort Pickens. A very interesting fact we learned while reading the informative signs placed strategically throughout the Fort was how it was used during the Civil War and later used as a jail to hold the Indian chief Geronimo and that it was never occupied by Confederates during the Civil War. Some historians even claim that the first shots fired in the Civil War were fired here after villagers  intended to occupy the fort.
While exploring the historic buildings you'll find yourself passing through what seems to be miles of tunnels in which you can get lost and open areas that were once occupied by prisoners. It was so interesting to learn all about how the Fort Pickens was built and what different areas were used for and just to be able to walk in the footsteps of history was really neat.
We made a short stop by the small gift shop and chatted with the rangers, who were are very informative, before taking the little path outside the fort that snakes pass grass fields and leads you to the beach. The beaches here are beautiful and virtually deserted and way less crowded than the ones in Pensacola.
You can collect  sea shells and sandollars while strolling by the emerald green water, find a great spot to lay your towel for some sun basking or even take a deep in the ocean if the water is warm enough for you. There is so much wildlife to see around and if you came at the right time of year you might even witness the Blue Angels doing their show.  Grab binoculars and you'll have a great view of the lighthouse across the fort. Or stay a little longer and enjoy a stunning sunset over the skyline of Pensacola Beach. It's a great spot to bring the kids and have a family day to remember.
If you love camping here you can find a great campground that is quiet and clean, very secluded and really well maintained with bathrooms and showers, a water fountain near the Park Ranger's house and fishing piers. It's a great option where you can enjoy the natural beauty of the area and still be in driving distance to all of the fun in Pensacola. You can bring and pitch a tent just make sure you grab a spot with shade as some are full sun due to hurricane Ivan where a lot of trees got damaged.
Fort Pickens is open year round from 8:00 a.m. to sunset. The Bookstore & Discovery Center is open from 9:00 a.m. to 4:30 p.m.