It was few months back that we found ourselves lost in the depths of the internet searching for a magical spot that would reward us with the best views of the North Carolina Mountains without miles and miles of strenuous hiking. This is when we stumbled upon this gem that we hadn't heard of before – Hawksbill Mountain.
Possibly because of the limited parking, or maybe because of the miles long gravel road that leads you to the trailhead, but not many people have talked about this spot.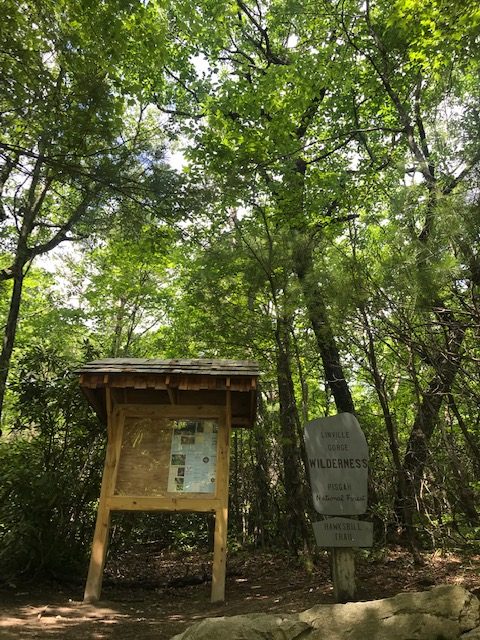 Hawksbill Mountain trail is straight out of a fairytale. The short but strenuous path snakes between rhododendron bushes creating gentle arches and if you visit here during late spring and early summer you'll be walking over a soft petal covered  carpet and surrounded with the sweet smell of the blossoms. Occasionally you'll be delighted to glance onto blue mountain views framed by the pink and white buds. It's a slow preparation for what's ahead of you and you would not be disappointed although at times the steep rocky incline would feel pretty painful.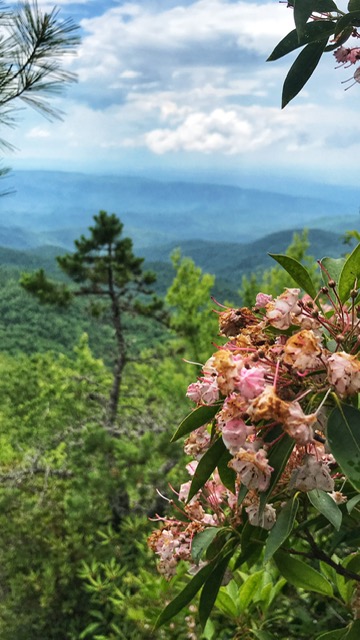 The good news is the top is only 30 to 35 minutes away from where you started if you are an experienced hiker or at the most an hour if taking lots of breaks. The path is narrow at times and you might have to wait for people coming back down from the top to pass (great excuse for a little stop) but nothing too bad. You will be gaining about 700 feet in elevation in the short mile and a half hike before reaching the stony mountain summit that stands at 4,009 feet tall.
Once at the top you have two choices. Take the path to the left or to right. We suggest you do both but first go right. A tiny narrow path between the bushes would bring you to rigged rock edges offering 360 degree breathtaking views of Linville Gorge Wilderness and the Blue Ridge Mountains. This views are like no others! Miles and miles of stunning vistas for as far as your eyes can see.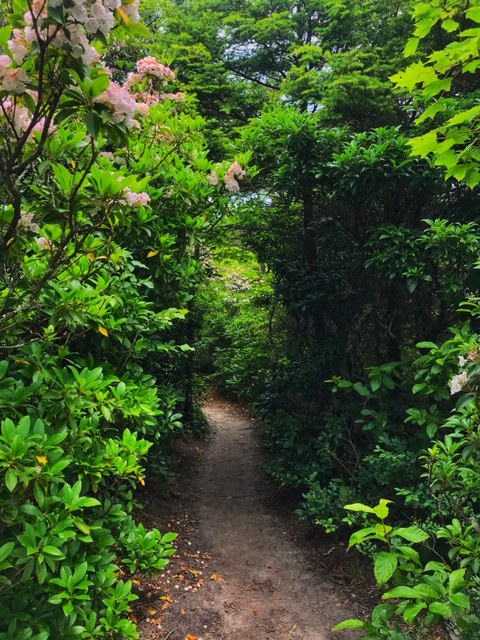 Sunsets here are spectacular. The hike back is straight downhill and so quick that if you leave on time you'll have plenty of time to get back to the car safely. But take a flashlight just in case.
When you are done taking in all this brilliancy don't forget to check out the other side. The views here are different but equally as glorious as the ones you just left behind. They will take your breath away. More wilderness combined with the perfect view of the famous Table Top. The clouds here move so very fast so make sure you bring an extra layer and a raincoat. You never know and better be prepared.
This hike is perfect if you are looking to get the kids outside and moving. The rocky terrain and low brunches make for a great obstacle course for ninjas in training and you'll be sure to grow the kids love for adventure and nature with reward as the one that this summit  provides.
Make sure to give this trail a go and don't be scared by the gravel road that leads to it. If you can't find parking at the trailhead parking lot drive a little further down the road where you will find few extra parking spots and a little path that connects you to the trail. And as always make sure to share your experience with us on our Facebook and Instagram Page. We love hearing from you!