We often like to break up the travel time by stopping at a destination midway to get in a little walk and a bite to eat. So on our way to Acadia National Park while coming from Massachusetts the obvious target was Ogunquit. Located just a short drive off I 95 and only three and a half hours from Acadia, it was the perfect target.
Friends of ours have previously recommended this "Beautiful Place by The Sea" and we were very excited to check it out. They would't stop talking about this magical place that they loved visiting every summer that was a heaven on earth called Marginal Way so after a delicious meal at a local restaurant we went on looking for it.
Finding Marginal Way was super easy. There are many signs pointing to it and plenty parking spots for visitors. We realized there were two ways to start the walk along the "Way" after reaching the other end of the path and seeing the second parking lot. We however started our adventure at the Perkins Cove lot, at the south end of the Marginal Way, but if you find yourself near Cottage Street (off of Shore Road) at the northern part, you can just park there and start the journey from this side of the path.
The two kilometer walk along the ocean surf and the clean emerald green water was lovely, quaint, picturesque and not to mention right on the ocean. The day was gorgeous and the sun was shining and so were our faces. I honestly can not imagine a more picturesque scene and a better way to spend a late morning. We sometimes find ourselves kind of rushing through places, mostly because we are unsure of how long our toddler would have the patience for it, but this time was different. The serene atmosphere and clear air, the magnificent views and surrounding calmness totally took us in.
We stopped for little breaks at almost all the benches(and not because we needed a break), but just to take in the tranquility. The short walk that usually takes about 20 minutes must've taken us hours and we didn't even realize it. Chatting along the way we caught ourselves speaking the same words we heard from our friends while commenting on this glorious place. It's hard to explain the feel that it gives you, you just have to be here to experience it for yourself. It is an absolute delight and a treat for your soul.
We learned that the picturesque footpath is called "the margin" because of its patterned development along the edge of Maine's cliffs. And you can take the nice paved path along all the beautiful huge mansions, beach houses and expansive hotels. Imagine yourself staying in one of them and waking up with a warm cup of coffee to this view. That would be a day to remembered. Although the path gets busy at times we didn't find it hard to make our way around the other people walking along it, neither we would say it was crowded. I would actually expect to see more people here considering how beautiful it is.
And if the breathtaking views of the ocean and craggy shoreline weren't enough there is a picturesque lighthouse standing right at the ending of the path. This white conical concrete tower with blue trim is a photographs dream. It is tiny but oh so beautiful with the background of the azure sky and gorgeous rich blue water.
We were even more delighted as we continue on our walk to find a small cove with a tiny beach there, almost like a private and secluded haven, which would make for the perfect spot to let the littles climb the rocks and do a little wading when the tide is low or build a sandcastle and collect some seashells to take home.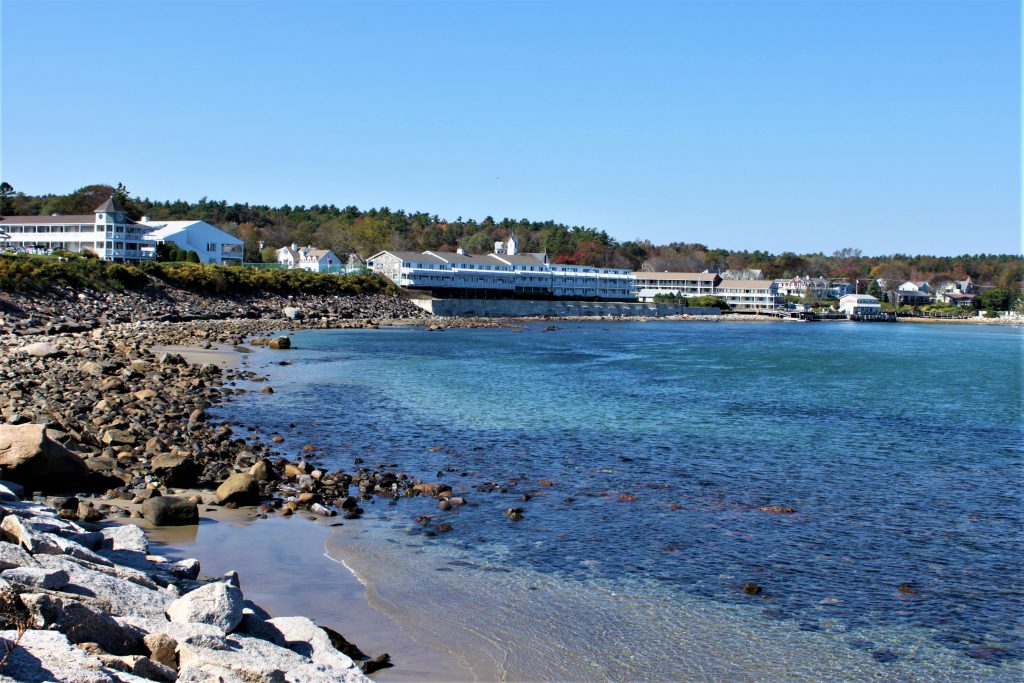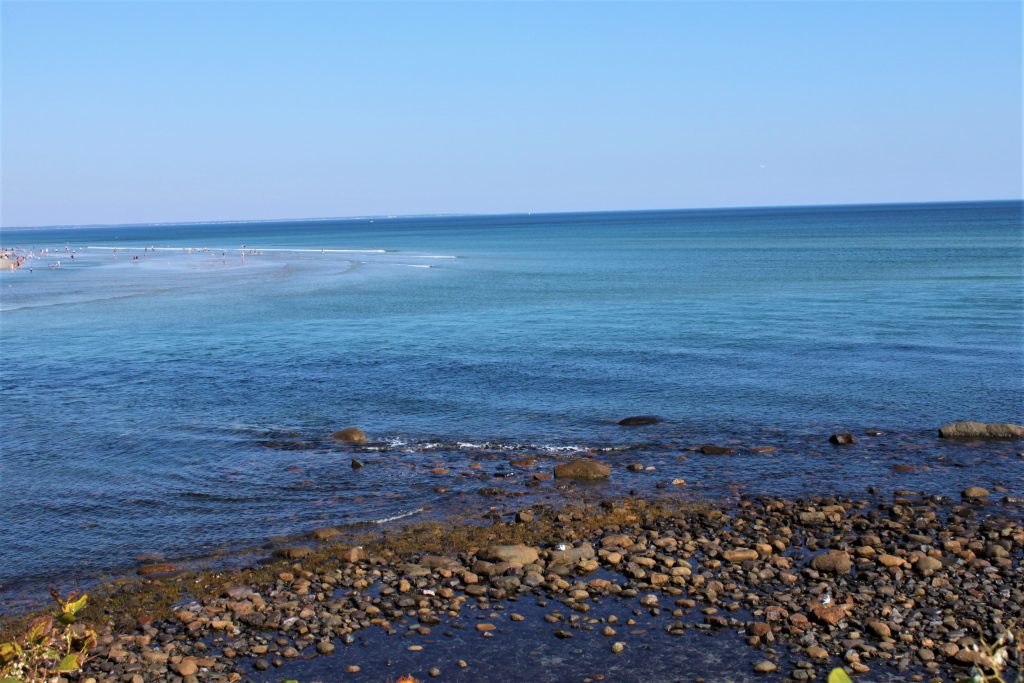 Sadly we had to leave these views and head back to the car otherwise we would've sat and watched the waves crashing on the rocky coastline for many more hours. And if you are in the area(or anywhere close) don't miss visiting. Marginal Way would make for a nice romantic stroll with your loved one, or great day to spend with the kids and would leave you full of joy and contentment and wishing you would never leave.