Nestled among the beautiful hills of the Berkshires of Western Massachusetts in the small town of Hancock only minutes from Pittsfield, MA, and Albany, NY with population of only 717 residents, is where you'll find this absolute treasure of a spot for kids of all ages with views like no others.
Ioka Valley farm was first established in 1936 and has been family owned and operated ever since with the Leab family traditions dedicated to providing enjoyment for little ones and adults alike and creating lasting love for animals and crops showing them how things are grown and done on a farm.
Even the drive to the Farm is stunning, winding through serene small towns and dazzling views of the Berkshires behind every corner, pass deer running by the woodsy roads and birds of every kind flying by the car as if they are greeting you and leading the way to what would be a great day in the Shire.
The ample parking lot at the farm is conveniently located right by the entrance so you are not expected to walk a ton if that is of a concern, but there is plenty to look at and wander around the Farm if you are looking to get some steps in.
There is so much to see and do here! From petting the animals (which are plenty) to a wonderful playground with multiple structures for all ages, hay maze inside and out, a corn play table where kids can fully let there imagination fly and use the toy machines to move corn around or hide the little animals and let their friends find them.
And as if the inside is not entertaining enough, the outside of Ioka Valley Farm is our absolute favorite. A massive playground structure for climbing is where our littles would spend half the day going up the wooded stairs and sliding down the huge tube slide. Hearing them giggle while coming down flying might be my favorite sound in the whole world.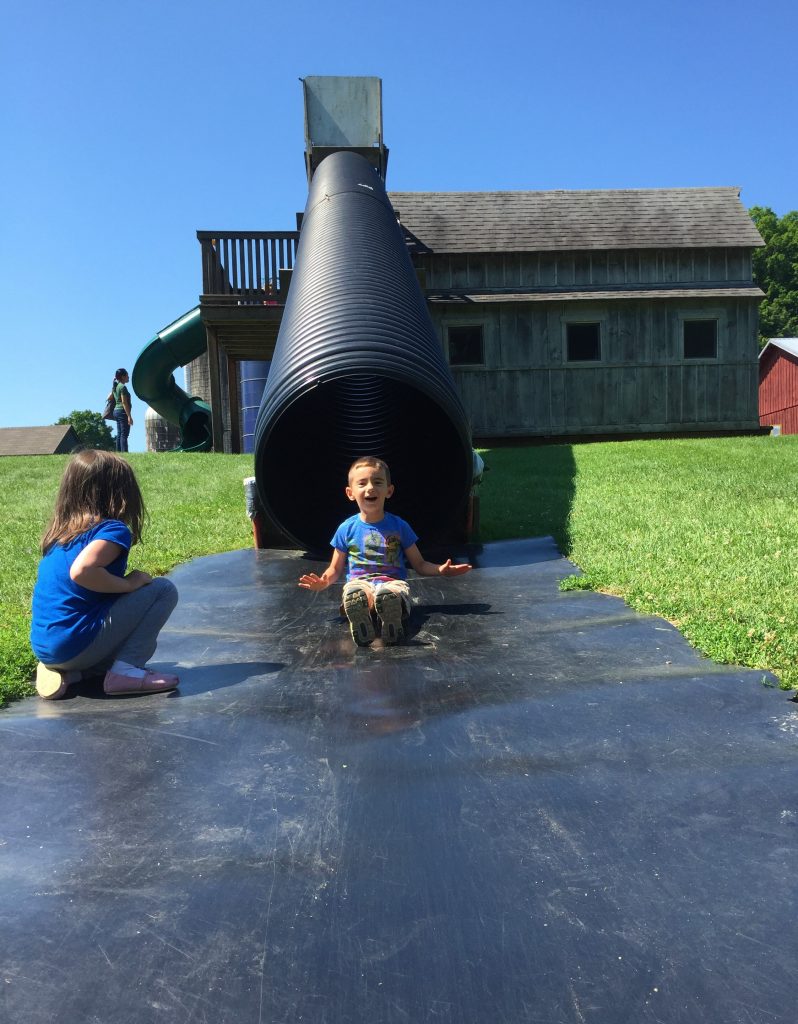 Taking a break from the playground, they loved going around and feeding the animals and playing with the water pump racing to see which little ducky would make it to the end first. Or climbing and swinging on any of the other few smaller playgrounds, before taking a turn riding on the little cow train or bouncing on the bouncy cows and trying to see which one of them stays on it the longest. The smiles on their little faces are everything!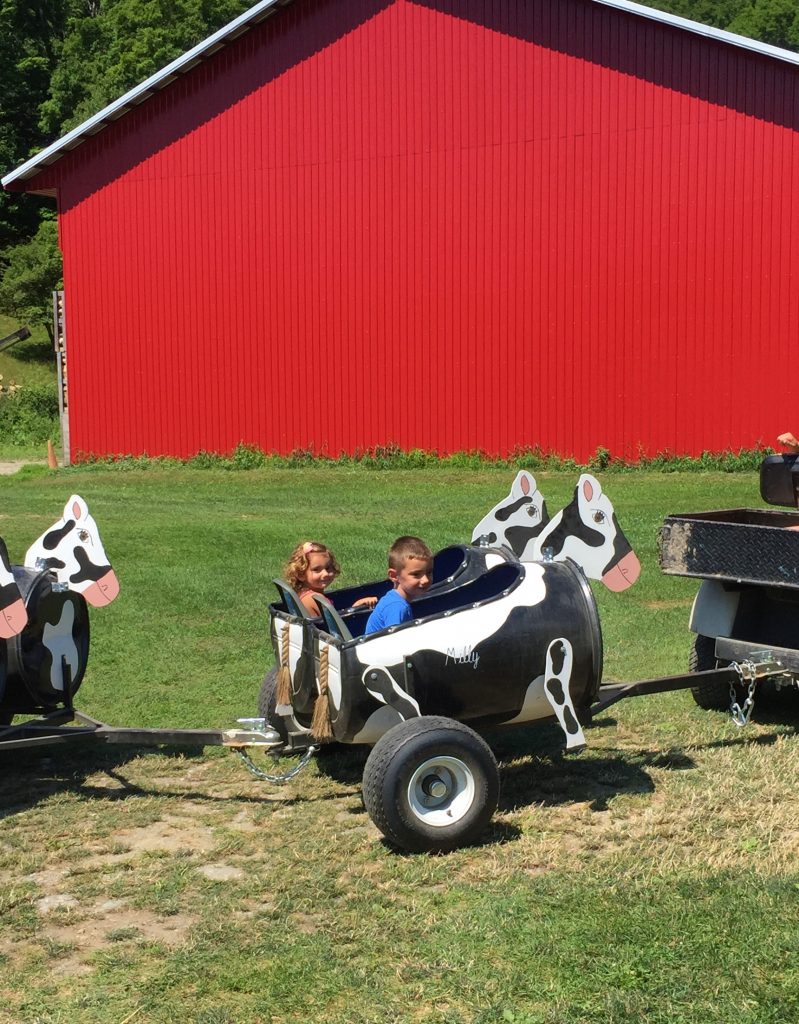 On a warm day we like to go inside from time to time and cool off in the creative play area and either read a book with our friends or color some of the farm inspired coloring pages or just play with some of the wooden toys on the shelves. The sand box is a huge hit especially with the boys as they can dig in the sand and play with the bulldozers and diggers for hours while the girls pretend to be going somewhere while taking a spin on the ride on cars calling the animals by their name and peting them as they go by. We love watching them use their imagination and come up with new ways to use toys that we do have at home but are put to a completely different use here.
Oh and then Fall at Ioka Valley Farm! It might just be our favorite! Every season here is enchanting but fall is something out of dreamy poem. Not only that you get to do all of the things that you can usually do here but you get to do them with spectacular views of the changing leaves surrounding you from each and every direction.
In the Fall when the air gets cooler and days get shorter, Ioka Valley Farm offers your very own pumpkin picking as well as wagon rides to the pumpkin patch, mini corn maze between the most colorful Indian corn, hay tunnels, dress me scarecrows and giant pumpkin house. At their sugar house you can pick and taste any of their maple syrup candies and enjoy some of there homemade cider donuts, cookies, whooping pies and grab apples and cider to take home.
In spring when the days are long and the nights are cold you can warm up by the fire at the sugar house and play a game of checkers while tasting their maple syrup pancake breakfast (on weekends) consisting of a breakfast choice of  home-made cake doughnuts with maple glaze, corn muffins, french toast and the fluffiest most delicious pancakes (plain, blueberry, chocolate chip or pecan) with bacon or sausage on the side. And then head outside where you can observe the process of how maple syrup is made. Watch the sap flow from the trees through transparent tubing, into the sugar house, and then getting boiled in their evaporators filling the shack with a sweet aroma.
In Winter when Jack Frost visits, Ioka Valley Farm offers four varieties of Christmas trees and a hayride in "Santa's Cap" to the Christmas Tree Plantation. Inside the sugar house you can warm up your chilled bodies by the fire while waiting for Santa to stop by for a visit and browse through the farm and their great selection of wreaths, handcrafted decorations, gifts, pure maple syrup and specialty maple products to pick from and bring home.
Ioka Valley Farm is located right around the corner from Jiminy Peak Resort on 3475 MA-43, Hancock, MA 01237. You can check out their hours and events here and if you have any questions you can email or call Missy or Judy at info@iokavalleyfarm.com or (413) 738-5915.